In Memory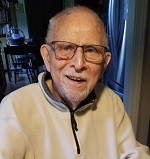 Donald Richard Molnar, 88 years old, of South Bend, Indiana passed away peacefully on January 16, 2023 in his home.
Donald was born on August 29, 1934 in South Bend, Indiana to Alex and Rose Molnar, who both preceded him in death. He was also preceded in death by two children, Christy and David, and two siblings, Shirley and Bob.
On July 23, 1979, Donald was united in marriage to Dianne (Stephens) Molnar, who continues to live in South Bend. He is also survived by his son, Larry (Sandy) who resides in Florida; four grandchildren, April (Mike), Sara, Alex, and Samantha (Kelby); and three great-grandchildren, Sabrina, Alli, and Alina.
He spent two years in the army and went on to work at the post office for many years, where he was able to memorize every zip code he came across. When he wasn't working, he could be found reading the newspaper from sunrise to sunset, drinking his favorite margaritas with salt, and spending time with his family. He was especially close with his great-granddaughter, Sabrina. He lit up every time she walked into the room, and she was always able to bring out his silly and carefree side.
Donald was a lifelong Washington High School sports fan. Known to some as Stat Man, he compiled many years of statistics for both girls' and boys' basketball. He was a longtime Lady Irish season ticket holder and thought himself to be Skylar Diggins' biggest fan. Donald also loved the Chicago Cubs and was finally able to see them win the 2016 World Series.
Along with a love for sports, Donald had a passion for music. In his youth, he played the trumpet in school and in bands. He loved listening to his huge album collection from Big Band to Blues to his beloved Willie Nelson.
There are no services scheduled at this time. Palmer Funeral Home - Welsheimer Chapel is assisting the family with arrangements.
Contributions may be made in Donald's name to Meals on Wheels, 121 West Garst St., South Bend, Indiana 46601.
02/04/2023 JFC
Click here to see Donald Richard's last Profile entry.