In Memory
Michael J Markiewicz - Class Of 1972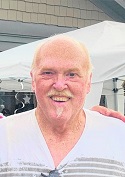 Michael J. Markiewicz
Jan. 31, 1954 - Mar. 29, 2021

SOUTH BEND, IN: Michael John Markiewicz, January 31, 1954 - March 29, 2021, South Bend, Mike joined his family in heaven on Monday, March 29, 2021 after failing health. He was preceded in death by his parents, Joseph and Marie Markiewicz (nee Micinski), his brother, Donald Markiewicz, and sisters, Janet Markiewicz and Marcia Huys. Mike is loved and remembered by his caring ex-wife, Barb Ellis (Markiewicz), sister-in-law, Mary Markiewicz, as well as his nephews and their families: Joe (Julie) Markiewicz, Paul (Linda) Markiewicz, Steven (Jody) Markiewicz, John (Cathryn) Roys and Todd (Desirre) Roys. He is also survived by several cousins and friends, including longtime dear friend, Debbie Gosztola.

Mike was a graduate of Washington High School in South Bend. He retired after nearly 20 years from the City of South Bend Street Department, as well as many years at the South Bend International Airport,where he worked as Maintenance Field Supervisor. He spoke proudly of his behind-the-scenes work to keep the airport operating safely; clearing snow from runways, repairing navigational lights, etc. Mike was a lover of pets, Nascar, Chicago Bears, and Notre Dame. He also enjoyed being involved with events and his buddies at West Side Conservation Club.
04/01/2021 JFC