In Memory
David Stephen Papai - Class Of 1951 VIEW PROFILE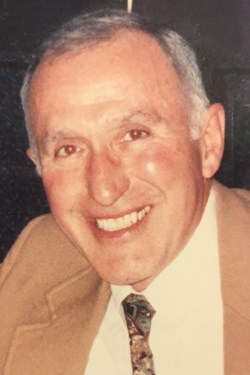 David Stephen Papai
April 12, 1933 - Jan. 15, 2021
ANDERSON, IN -

David Stephen Papai passed away on January 15, 2021 at his home in Anderson. He leaves behind his beloved wife of 64 years, Leanor, and children Michele (David Drabold) of Athens, OH, Andrea (John Fowler) of Blairsville, GA, and Michael (Jenny) of Anderson; grandchildren, Jacob (Lydia Picard) Fowler, Lindsay (Josh) Fowler Adkins, Sasha, Mila and Leanya Martczyanov, Will Drabold (Kaitlyn Kostival) and Edward Drabold (Ashley Cobbs), and Ava Papai, a step-grandson, Eli Malcomb, and one great-grandson, Charles David Drabold. He was preceded in death by his son David Lee, grandson Michael David Fowler, brother Albert, and daughter Jeanné.

David was born on April 12, 1933 in his grandparents' home, the second child of Stephen Papai and Julia (Varga) of South Bend. His living siblings are Victor (Mary Lou) Papai, sister-in-law Sandy Papai, and sister Julianne (Tony) Mroczkiewicz. He is adored by numerous nieces and nephews as a proud and engaged uncle and great-uncle.

He attended Our Lady of Hungary Elementary School and Washington High School in South Bend, IN. He served in the U.S. Army during the Korean War at Fort Monmouth and White Sands Missile Base. He obtained an associate degree in Radio Engineering from Valparaiso Tech in 1953. He worked for 10 years at Bendix Missile Division, and then as an Engineer for 30 years at the Delco Remy division of General Motors in Anderson, retiring in 1992. After retirement, he was an engineering consultant for Delco Remy America in Mezokovesd, Hungary.

He had a full life: he scaled several fourteeners in Colorado, was a world traveler, a gifted woodworker, a voracious reader, and an enthusiastic genealogist in his retirement. He organized multiple tours to his beloved Hungary to provide family members insight into their past. He was a passionate gardener, "the tomato whisperer". He hiked with teenagers, family and friends on trails ranging from the Alaskan back country, to extensive walks on the Appalachian Trail and in National Forests, especially in Colorado.

Anyone who knew Dave recognized that he was one of a kind: warm, principled, intelligent, curious, fascinated by humanity, deeply engaged in life, possessing an unquenchable sense of adventure and a dedicated conversationalist. He had a fine memory, and could recount details from his early childhood and the second World War. He was remarkably organized with an immaculate wood shop and file cabinets meticulously ordered, with documents dating to the 50's.

Dave was a devoted community volunteer with, among others: St. Mary's Church Community, St. Dismas Society, Catholic Youth Organization, Madison County Literacy Coalition, and the Christian Center Soup Kitchen.

His guiding star was his abiding Catholic faith -- his support and inspiration through life. While he would have been too modest to acknowledge it, he was also a model and inspiration for many others.

Mass of Christian Burial will be at 1pm Saturday at St. Mary Church, with interment following at St. Mary's Cemetery. Due to the state restrictions for COVID-19, guests are required to wear face coverings and practice social distancing. In lieu of flowers the family suggests donations be made to the Saint Mary's Catholic Church Building Fund, 1115 Pearl Street, Anderson, IN 46012, and the Madison County Literacy Coalition at https://madisoncountyliteracy.weebly.com.

If you have a story or memory of David Papai you would like to share, please do so by visiting davidpapai.weebly.com.

Arrangements were entrusted to Brown-Butz-Diedring Funeral Service & Crematory.

Online condolences can be posted at www.brownbutzdiedring.com.
01/21/2021 JFC
Click here to see David Stephen's last Profile entry.