In Memory
Jacqueline Weiler (Blanford) - Class Of 1955 VIEW PROFILE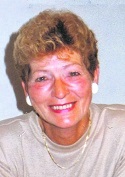 Jacqueline Weiler
Sep. 09, 1937 - Mar. 20, 2021

MISHAWAKA - Jacqueline M. Weiler passed away Saturday evening, March 20, 2021. She was eighty-three years old and died too young.

Our mom was born on September 9, 1937, in St. Anthony's Hospital in Michigan City, Indiana. Her mother and father were Doris H. Friend-Weiler and Robert Weiler. She was raised by her grandparents, Ethel C. Noakes-Friend and Carl Friend. She lived in Niles, Michigan until 1952 when she moved to South Bend where she graduated from Washington High School in 1955. In 1956, mom married our father, Raymond V. Blanford (deceased). They had four children, Gregory K. Blanford of South Bend, Ranay Blanford-Schoening (Darel Schoening), Appleton, Wisconsin, Stacy Blanford-Digman (Brian Digman) of Grabill, Indiana and Lisa Blanford-Giallombardo (David Giallombardo) of South Bend. "Bamma" had seven grandchildren, Riley Blanford, Conor Bell, Elinor Bell, David Schoening, Gregory 'Robbie' Digman, Samual Digman and Bennett Giallombardo.

Mom loved her children and grandchildren immensely. And, she also loved her pets, Ollie and Kiki who are lovingly enveloped into our extended family.

Our Mother was the backbone and strength of our family. She ably and efficiently maintained a home as she raised four children while her husband (our Dad) served multiple tours in Vietnam. She was quite organized and would tell us, "When you kids were little, I'd have all of you cleaned, dressed, fed and the house spotless by noon each day. I got so bored I took on a part-time job!"

She loved the Army life and was the consummate officer's wife-exemplifying 'proper etiquette'. She took that responsibility seriously and with grace. She always looked back on those years as some of her favorite times.

One of her fondest memories was sailing across the Atlantic in 1969 on the USS United States final voyage on our way to a 4-year tour in Heidelberg, Germany. It's a unique skillset to wrangle 4 young children (ages 4-11) on an ocean liner without losing one of them overboard. We are confident it was solely due to her 24/7 vigilance!

Mom went on to take those skills into the world of business. She held a real estate license and worked at Gallery of Homes. And in 2003, she retired after twenty five years with Notre Dame Law School.

Our Mother was very social, engaging and made friends wherever she went. She had a very active social life and loved spending time with her friends. She especially loved her Saturday morning breakfasts with her niece, Colleen.

She was a member of the Red Hat Society and she was the corresponding Secretary at the Elks Club. Mom was a prolific reader, enjoyed traveling and bowling. She also loved fashion. And, had the beauty and natural grace to make a gunny sack look 'regal'.

Sadly, our Mom contracted COVID-19 in November, but never fully recovered to the lively, feisty and independent woman she was before. As is the case with too many other COVID victims, the damage to her lungs was too great and irreversible causing her to die too soon and too young. But, unlike the thousands before her that died alone, we were all able to see her and be with her before she passed. We will always be immensely grateful for that.

Her cremation has already occurred, and she will be laid to rest with her grandparents in Niles, Michigan. Hahn Funeral Home has been entrusted with handling the arrangements.

A celebration of our Mother's life will occur, in the near future, when all of her loved ones can gather in safety.

We love you mom and miss you already.

To leave an online condolence or to share a memory, please visit www.hahnfuneralhomes.com.

03/27/2021 JFC
Click here to see Jacqueline's last Profile entry.