In Memory
Sharon Weesner (McGovern) - Class Of 1979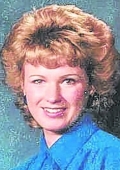 Information from Martin Lukaszewski 03/25/2020. JFC
Sharon was Valedictorian Class of 1979.
Sharon Weesner McGovern
Dec. 27, 1960 - April 12, 2013

South Bend Tribune; April 14, 2013

SOUTH BEND - Sharon Weesner McGovern, 52, passed away on Friday, April 12, 2013, in Memorial Hospital.
Sharon was born December 27, 1960, in South Bend, to Hilton and Dorothy (Stajkowski) Weesner. She was preceded in death by her father, Hilton Weesner, who preceded her in death in 2001. Survivors include her mother, Dorothy Weesner of South Bend, IN, and many aunts, uncles and cousins.
Sharon was Valedictorian of Washington High School in 1979 and graduated from the College of Journalism at Ball State University in May of 1983. She worked a variety of different jobs in the business industry for all her life.
Sharon was a member of the Press Club and the American Legion Post 357. She was a parishioner and past musical accompanist of Holy Family Church. Sharon was an avid piano player and loved music. Sharon loved to read, travel, and sports, especially baseball.
She was a giving person, donating her corneas for medical research. Sharon was a WW II history buff following her father's service in the military. Visitation for Sharon will be 2 pm to 8 pm, Tuesday April 16, 2013, in ST. JOSEPH FUNERAL HOME, 824 S. Mayflower Road, where a Rosary will be prayed at 4:30 pm. A Mass of Christian Burial will be celebrated at 10:00 am on Wednesday, April 17, 2013, in Holy Family Catholic Church.