In Memory
Shalena Nadine Jackson - Class Of 1985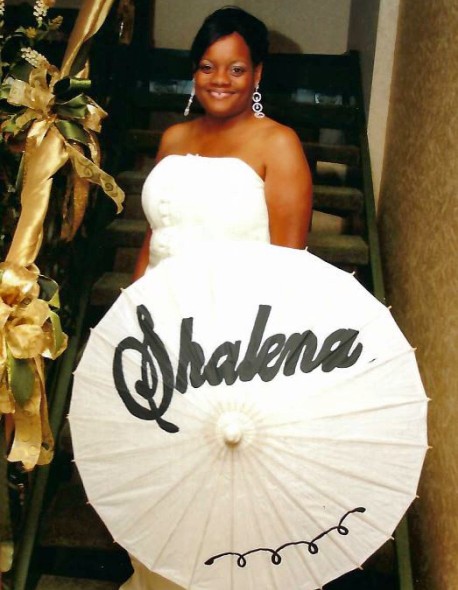 On March 21, 1967, Shalena Nadine Jackson was born to the union of Larry and Aurelia (Jackson) Phillips. Shalena was also known as "Shennie Mo", given name by her Uncle Nate, and "Duck", given name by her Uncle Michael.
Graduating from Washington High School in 1985, Shennie took employment at LaPetite Academy and was employed faithfully for 26 years, and the Charles Black Recreation Center for 10 years. Shennie gave her life to Christ at an early age at New Hope Missionary Baptist Church under the leadership of the late Rev. Willie V. Williams. She sang in the choir under the strong hand of her aunt, Mrs. Corrine Miller. "The Yellow House," is where she was raised. There she also cared for many of the neighborhood children and in her home. Everyone had a hand in raising Shennie; she was never left alone, by either side of the family. Shennie also loved to travel with her sister Resha and the gang, going to malls, seminars or just eating out. Although she was quiet, with her demenor and those eyes, we all knew our limit.
Sharing her loving memories are her mother, Aurelia "Rea Mae" Phillips; two handsome sons, Christopher (Nessa) and Cortne (Lexi) Johnson; one lovely daughter, Janaya Phillips; five sisters: Resha (Gino) Johnson, Shalonda (Tory) Miller, Celeste (Anthony) Higginbotham, Jacqueline (Robert) Harris and Tracy Young; six grandchildren which she loved very, very dearly: Cortni, Cayus, Camdyn and Creedyn Johnson, Jaion Coria and DaMon Bethel.; two grandmothers, Willie B. Jackson and JoAnn Phillips; three godsons: Terron Johnson, Ronald Milligan (Lil Man), Tremaine Owens; and a host of aunts, uncles and a plethora of cousins. Special friends Norma Morrison, Benita Owens, Marsha Duckworth and Kawanna Farmer; Sue and the LaPetite Family; the Charles Black Center family and of course, her glamour girl Taylor.
Preceding Shennie in death: her father, Larry Phillips; grandfathers Nathaniel Jackson, Sr. and Wiley Phillips; grandmother Reba (Taylor) Phillips; one brother, Dale Young; uncles Nathaniel Jackson, Jr., Terrance "Cool Breeze," Phillips, William (June) Thompson; aunts Regina Phillips and Tomasena Thompson.
Bud and Meaty would like to send a heartfelt thank you to Pamela Smedley for transporting "My Mom" back and forth to her appointment…Thank You Pam, we love you.
Funeral services for Ms. Shalena Jackson will be held on Thursday, November 7, 2019 at 1:00 P.M. at Palmer Funeral Homes - West Chapel, 2702 Lincoln Way West, South Bend, IN 46628. Pastor Jacqueline Harris to officiate. Friends may call on the family from 6-8:00 P.M. on Wednesday, November 6, 2019 at the funeral home. Burial at Chapel Hill Memorial Gardens to follow funeral services on Thursday. Online expressions of sympathy may be left at www.palmerfuneralhomes.com.
11/05/2019 JFC