In Memory
Danny Siders - Class Of 1991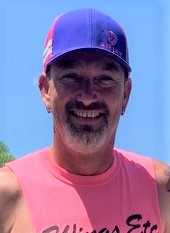 Danny Eugene Siders
November 30, 1972 – November 4, 2020
Danny Eugene Siders, 47, of South Bend passed away unexpectedly on Wednesday, November 4th.
Danny was born is South Bend, Indiana on November 30, 1972 to Robert and Doris (Kronwitter) Siders. He graduated from Washington High School and worked for many years in the construction industry. He had a passion for playing softball, spending many Sundays at the Byers Softball complex. Danny was a die-hard Steelers fan, loved music and a classic smart-ass, with a PhD in sarcasm. Known as the family crochet champion. He enjoyed many things yet his greatest joy was being with his family.
Danny is survived by his loving daughter, Brittany Siders of South Bend, his grandson, Bentley Sheler, who would call Danny, "Best Papa OG", along with his fiancé, Tina Smith of South Bend, along with her children, Ashlee Smith, Brandon Torres, and Julia Gustafson. He is also survived by his siblings, Steve Siders, LouAnn (Dave) Horvath, and Susie (Dale) Piechocki all of South Bend, and nieces and nephew, Kristi (Mike) Fisher,Staci (James) Kruszewski, and David Horvath. He was preceded in death by his parents, Robert and Doris Siders.
Friends may visit with the family on Monday, November 9th from 4:00 until 8:00pm in the Hanley and Sons Funeral Home "Southwest Chapel", 23421 State Road 23, South Bend, IN 46614. The family requests that friends wear Steelers gear, pink, or softball jerseys to the gathering. Local heath guidelines will be in effect. In Lieu of flowers the family wishes that contributions be made to his family through the gofundme page, Danny Siders – Memorial Expenses. The family wishes to thank the Indiana Donor Network for all their assistance letting Danny continue
11/06/2020 JFC