In Memory
Misty Kuykendall (Roseman) - Class Of 1991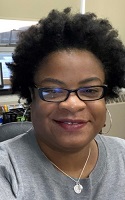 Misty Nicole Kuykendall Roseman
June 4, 1973 - Jan. 29, 2021
SOUTH BEND, IN -

Misty, 47, of Indianapolis, transitioned unexpectedly. She was born in South Bend, June 4, 1973 to Mac Kuykendall & Virginia Sanders Kuykendall. Misty graduated from South Bend's Washington High School & went on to earn degrees from IU-Bloomington & Butler University.
She made Indianapolis her home in 1996. Misty was an educator in the IPS system, teaching, coaching & leading for 20 years, & an Assistant Principal (Arlington Middle School) from 2018 until her passing. She was preceded in death by father, Mac Kuykendall; paternal grandmother, Allie B. Kuykendall; maternal grandfather, Ed Sanders; & maternal grandmother, Georgia Alexander, & is survived by her husband, Kenneth Roseman; two sons, Anthony (AJ) & Ethan Roseman of Indianapolis, IN; mother, Virginia Sanders Kuykendall of South Bend; sister, Zaya Kuykendall-Bowen (Aaron) of Pleasanton, CA; brother, Donald Kuykendall (LaKeisha) of Fort Wayne; nephews, Zane Bowen & Macyn Kuykendall; & a host of aunts, uncles, cousins, honorary kids, & friends.
Misty will forever be known as strong, compassionate, & humorous. Whether it was being a daughter, sister, wife, mom, family member, educator or friend, she made you feel loved, cared for, & important. Celebration of Life is 10am, Mon., Feb. 8, 2021 at St. Lawrence Church, 4650 N. Shadeland Ave., Indianapolis, IN 46226. In lieu of flowers, memorial contributions to Roseman Children's Education Fund c/o Kenneth Roseman.
02/07/2021 JFC