In Memory
David Joseph Meert - Class Of 1985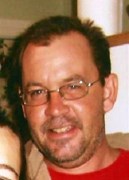 David Joseph Meert

Nov. 6, 1966 - Oct. 3, 2018

SOUTH BEND, IN - David Joseph Meert, 51, of South Bend, IN, passed away on Wednesday, October 3, 2018 in his home.

David was born on November 6, 1966 to Ronald and Germaine (Nowicki) Meert in South Bend, IN, and was a lifelong area resident. He was preceded in death by his father, Ronald Meert; maternal grandparents, Theodore and Mary Nowicki; his paternal grandparents, Louis and Germaine Meert; and a niece, Kristen.

He graduated in 1985 from Washington High School, where he was a member of the 1984 Baseball Semi-State Champions. David then graduated from Ball State University, where he majored in Finance. David was currently employed at Walsh & Kelly Contractors in South Bend, IN, where he worked for the past 23 years.

David is survived by his mother, Germaine Meert of South Bend, IN; his sister, Rhonda (Gary) Cox of Mishawaka, IN; three brothers, Theodore (Jennifer) Meert of Mishawaka, IN, Randall (Shiela) Meert of Elkhart, IN, and Gregory (Margaret) Meert of Mishawaka, IN; many nieces and nephews, Alan, Miles, Lauren, Natalie, Christopher, Nicole, Tara, Scarlett, M.J., Joshua, Gabby, Gus, Max, Erica, Tucker, Angela, Micaiah, Judah, Adelae, Hannah, Josiah, Audrey, Mary, Theo, Darby, Felicity, Carolina, Elizabeth, Issa, Jeremiah, Jennifer, Morgan, Kenny, John, Stephanie, Nevette, Vanna, Simone, Eric, Weston, and Lola; his friend Nancy of South Bend, IN; and many other special friends who will miss him.

David was a member of the Indiana Laborers' Union Local No. 645 in South Bend, IN. He loved Notre Dame football, the Chicago Cubs, fishing, and golfing. David always had a smile on his face, and was willing to help anybody in need.

A Memorial Service will be held at 12:00 p.m. Saturday, October 20, 2018 at Kaniewski Funeral Home, 3545 N. Bendix Drive, South Bend, IN, where family and friends may visit two hours prior to the service.

Memorial contributions may be made to: Indiana Hemophilia & Thrombosis Center, Inc., 8326 Naab Road, Indianapolis, IN 46260.

To send online condolences, please visit www.kaniewski.com.