In Memory
Frank Slaby - Class Of 1954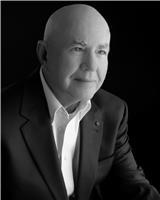 Frank Slaby, age 81, of Rensselaer, Indiana passed away Monday, July 30, 2018, at his home. Frank was born August 3, 1936, in South Bend, Indiana, the son of Frank and Alice (Michalec) Slaby, Sr.
A graduate of South Bend Washington High School, he continued his education at Indiana University receiving his BS in Finance and Economics in 1962 and his MBA in Management and Administrative Studies in 1963. Frank received his PHD at University of Cincinnati.
Frank began his military career in 1954, serving in the U.S. Air Force from 1954-58, and the Reserves from 1958-1962. In 1963 he was commissioned into the U.S. Navy where he served in the Reserves from 1963-1968, Active Duty from 1968-1970 as Commanding Officer, Naval Reserve Command; from 1970-1996 he served in numerous Naval Reserve Commands. In 1996 Frank retired from the U.S. Navy with the rank of Captain.
He was a member of the Rensselaer Rotary Club and was a member of the Union Township Advisory Board from 1982-2006. He was a life member of the Indiana University Alumni Assoc., Beta Gamma Sigma, Alpha Kappa Psi and Kappa Delta Rho. Frank attended the First Presbyterian Church in Rensselaer and had been raised in the Catholic faith.
In 1968 Frank was bestowed the honor of Kentucky Colonel and in 1969 was named a Kentucky Admiral. In 1981 Frank was awarded the Sagamore of the Wabash.
Frank was employed as a Professor of Business Administration at several universities, including Mississippi State, University of Cincinnati, St. Mary's in South Bend, IN, Indiana University Northwest, Valparaiso University and St. Joseph College in Rensselaer. Frank was a financial advisor and tax consultant from 1995 to the present.
On May 18, 1978, in Gary, Indiana Frank married Kristi Courtright.
Surviving with his loving wife Kristi are three daughters, Cami (Steve) Slaby-Nail of Atlanta, GA, Keriann (David) Slaby-Martin of Knightstown, IN, and Joy (Leticia) Mendenhall of Long Beach, CA, grandchildren Alix Nail, Tyler Lee, Garrett Lee, Arya Walsh and Jude Walsh, great-granddaughter, Alexis Lee and his siblings, Trudy (Bill) Eissler of Atlanta, and Nancy Garcia and Ray (Darlene) Slaby, both of Indianapolis. Frank was preceded in death by his parents.
Friends will be received by the family at the Jackson Funeral Chapel of Rensselaer on Tuesday, August 7, 2018, from 3:00 - 6:00 p.m. CDT. Funeral services for Frank Slaby will be held at the First Presbyterian Church in Rensselaer on Wednesday, August 8, 2018, at 11:00 a.m. CDT with a time of gathering from 10:00 a.m. CDT until time of services. Pastor Jeff Cover officiating. Burial will be held at Arlington National Cemetery. Family and friends are invited to Frank and Kristi's home after 2:00 p.m. Wednesday for a time of fellowship and sharing of memories.
Memorials are suggested to the Multiple Myeloma Research Foundation, 383 Main Avenue, 5th Floor, Norwalk, CT 06851.