In Memory
Donata Janine Lombardi - Class Of 1968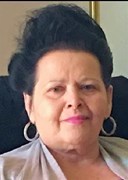 Donata Janine Lombardi

Dec. 22, 1950 - Apr. 26, 2018

SOUTH BEND - Donata Janine Lombardi, 67, sister, mother, and grandmother transitioned to eternal life on April 26, 2018.

Donata was a lifelong resident of South Bend, Indiana and was born to John and Loretta Lombardi on December 22, 1950. She was reared in South Bend, Indiana where she graduated from Washington High School in 1968. She later attended Bethel College.

Donata was baptized in the Catholic Church and received her first communion at Saint Bavo Catholic Church. She retired from Hansel Neighborhood Service Center after 25 years of loyal service only to start a new career at Riley High School.

Donata found her happiness and joy in raising her five beloved children: Regina, Jany, Angela, John, and Andrea.

Donata leaves a strong legacy of unconditional love with many to cherish her indelible memory including her five children; grandchildren, Lexus, Janaysha, Derrick, Kristian, Jayla, Devon, and De'Shawn; siblings, Anne Marie and Erica (John); and one great-granddaughter-to-be, Alasia.

Preceding Donata in death are her parents, John and Loretta Lombardi; brother, John Lombardi, Jr.; and two grandchildren, Tyron and Madisyn.

Her family, especially her grandchildren, were the center of her world. She was the consummate matriarch who made every birthday special, every holiday festive, and every meal with love.

Donata's Celebration of Life Service will be held in St. Joseph Funeral Home, 824 South Mayflower Road, South Bend, IN on Wednesday, May 2, 2018 at 1:00 PM. Visitation will be held two hours prior to the service, starting at 11:00 AM.

Condolences may be made at www.sjfh.net.