In Memory
Veronica M Michalski (Hack) - Class Of 1949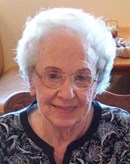 Washington 1949 Veronica M (Michalski) Hack
Feb. 21, 1931 - Jan. 19, 2018
SOUTH BEND - Veronica Hack of South Bend passed away January 19 at Healthwin Specialized Care, after an extended illness.
Veronica was born on February 21, 1931 to Michael and Joanna (Danielowicz) Michalski. She spent her entire life in South Bend, graduating from Washington High School in 1949. She spent most of her working life in retail, having been employed by Gilbert's Men's Store and Rasmussens Men's Store. Most recently she worked at the Downtown Osco Camera Counter for 15 years before retiring in 1999. She earned numerous awards for her customer service there.
Veronica was an avid reader, crossword puzzle solver, and enjoyed sports on TV, especially the Chicago Cubs, Indianapolis Colts, Indiana Hoosiers, and Notre Dame Fighting Irish. In her younger days Veronica enjoyed bowling in various leagues, playing cards with her card club friends, and fishing.
Veronica and her family were among the first parishioners of Corpus Christi Parish when it began in 1962. She was very proud of her children and grand children, her Polish heritage, and her Catholic faith.
She is survived by a daughter, Deborah Coats (Mike Anthony) of Edwardsburg; a son, David (Millie) Hack of South Bend; a son, Alan (Cheryle) Hack of Edwardsburg, MI; and a son, Randy (Theda) of Edwardsburg, MI. Survivors also include 12 grandchildren, Sara Hack, Katie Femia, Emily O'Hara, Joshua Hack, Lucas Hack, Trevor Hack, Adam Leszczynski, Amy Davidson, James Hack, Tyler Hack, Jaden Hack, and Tibby Hack; and 12 great-grandchildren, Olivia, Carmela, Dino, Colton, Lily, Chloie, Jacob, Ally, Finnegan, Violet, Liam, and Madisyn. She is also survived by a sister, Theresa Jewell of Lawton MI; and by a sister-in-law, Joan Michalski of South Bend.
She was preceded in death by her parents; brothers, Sylvester and Michael Michalski; sisters, Jennie Markowski and Angeline Wynn; daughter-in-law, Michele Hack; and son-in-law, Ken Coats.
A Mass of Christian Burial will take place at Corpus Christi Church on Wednesday, January 24 at 11 o'clock, with visitation at the church for 1 hour prior to the service. Kaniewski Funeral Home is entrusted with the arrangements. Burial will take place later in the week at St. Joseph Cemetery, South Bend.
In lieu of flowers please consider a memorial donation to Corpus Christi Catholic Church or St. Jude Children's Research Hospital.
A special "thank you" to all of the staff at Healthwin Specialized Care, and the nurses and staff at the Bridgeview Wing, including Paula, Debbie, and Julie, and all the kind and attentive staff who worked so hard to make Veronica's stay comfortable for her.
Published in South Bend Tribune on Jan. 22, 2018
jmc 22 jan 2018