In Memory
Patrick E Gullifor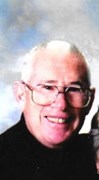 Washington (Teacher) Patrick E Gullifor
Mar. 1, 1934 - Jan. 14, 2018
SOUTH BEND - Pat was born in Brazil, Indiana on March 1, 1934, to the late Harold and Anna Mary (Murphy) Gullifor. The family moved to Terre Haute, Indiana, and Pat attended St. Benedict Catholic School and Gerstmeyer High School (where he played football, basketball and baseball, graduated second in his class.) He graduated from Indiana State College in 1956, with a teaching and coaching degree. He obtained his Master's degree the following year.
Pat married Rose Marie Heinig at St. Ann's Church in Terre Haute, Indiana, on August 18, 1956. They moved to South Bend where Pat took a job teaching Biology at Washington High School. He was a member of St. Matthews Cathedral in South Bend, and a member of the Knights of Columbus Council 5570.
Pat served in the United States Army on a critical skill program during the Sputnik era and served three months active duty. He returned to Washington High School upon discharge from the Army.
He remained at Washington for 37 years, teaching and serving as Head of the Science Department. He also coached cross country, baseball (Head Coach), track and football (under "Beans" Van Camp.) He was a coach when Washington won their football state title in 1973.
In the summers, Pat went to school courtesy of The National Science Foundation. He spent three summers at Purdue University, obtaining his second Master's degree. He spent several summers at The University of Wisconsin as well as summers at Ball State University and Wayne State University. Pat also taught Driver's Education at Washington during the summers.
Pat retired from teaching in 1993, and he and Rose traveled and spent time with their children and grandchildren. Pat loved sports of all kinds, was a special fan of Notre Dame and Michigan football, and all his life was a Yankee fan like his father.
Pat is survived by his wife, Rose, his children, Michael (Jody) Gullifor of Richmond, IL, Paul Gullifor of Peoria, IL and Barbara (Allan) Thompson of Southlake, TX; grandchildren, Brandon Gullifor, Kellen (Kateri) Gullifor, Sarah (Brad) Jarrard, Daniel Gullifor, Allison Gullifor, Collin Thompson and Katie (Brandon) Towers; great grandchildren, Cayden Gullifor, Brody Gullifor, Kieran Gullifor, and Evelyn Rose Jarrard. He is also survived by a sister, Carolyn Hanley of Terre Haute, IN, a brother, Thomas (Mary) Gullifor of Plainfield, IN, and a sister, Peggy McEvoy of Ypsilanti, MI. Visitation for Pat will be on Thursday January 18, 2018 in the Kaniewski Funeral Home 3545 N. Bendix Dr, South Bend, IN from 4:00 until 8:00 pm. A rosary will be prayed at 4:00 pm. A Mass of Christian Burial will be celebrated on Friday January 19, 2018 at 10:00 am in St. Matthews Cathedral, South Bend. Entombment will follow in St. Joseph Cemetery. Memorial contributions may be made in Pat's honor to the charity of the donor's choice. Online condolences may be left at www.kaniewski.com
Published in South Bend Tribune on Jan. 17, 2018
jmc 20 jan 2018