In Memory
Larry C Klodzinski - Class Of 1965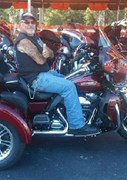 Washington 1965 Larry C Klodzinski
Nov. 24, 1947 - Jan. 01, 2018
MISHAWAKA - Mishawaka - Larry C. Klodzinski, 70, passed away peacefully in his sleep on Monday, January 1, 2018 in the Sprenger Health Care Facility after battling Kidney Cancer.
Larry was born November 24, 1947 in South Bend to Louie and Winifred (Isban) Klodzinski.
Survivors of Larry include his Harley; his Truck; his girlfriend, Dagmar Gundler; and his sons, Shawn (Cheryl) Klodzinski, and Jason (Rachel) Klodzinski; grandchildren, Austin & Daniel (Shawn), Jamie & Gabby (Jason); brother, Gary (Barb) Klodzinski; and nieces, Pam (Pat) Sessler & Tina (Phil) Denham.
Larry was a Washington High School graduate. He honorably served his country in the United States Army during the Vietnam War. Larry lived in between Indiana and Florida for 15 years. He was a member of South Bend Hog Chapter and ABATE in Florida. Larry's favorite past time was riding his Harley.
Per Larry's wishes he will be cremated with no services. His ashes will be spread at his favorite place in South Dakota along with many of his biker friends. ST. JOSEPH FUNERAL HOME, 824 S. Mayflower Rd. is assisting the family.
In lieu of flowers, memorial contributions may be made to the American Cancer Society, 130 Red Coach Dr., Mishawaka, IN, 46545.
Condolences for the family may be made at www.sjfh.net.
Published in South Bend Tribune on Jan. 4, 2018
jmc 4 jan 2018