In Memory
Bruce Allen Schweizer - Class Of 1974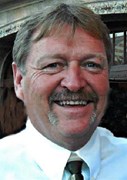 [Does anyone know if Bruce served in the military?]
Washington 1974 Bruce Allen Schweizer
Oct. 24, 1955 - Dec. 31, 2017
MISHAWAKA - Bruce Allen Schweizer, 62, residing in Mishawaka, passed away on Sunday, December 31, 2017 at Center for Hospice in South Bend. Bruce was born on October 24, 1955 in La Porte, IN, to Richard E. and Dorothy M. (Cornell) Schweizer, both of whom preceded him in death.
Bruce is survived by son, Christopher Schweizer of Granger, IN; and brothers, Richard (Silvia) Schweizer of South Bend, Gary W. (Linda) Schweizer of South Bend, Keith (Rachel) Schweizer of South Bend, and Mark (Lori) Schweizer of South Bend.
Bruce was an avid boater and loved being on the water. He was a handyman and could fix just about anything; he loved visiting Indiana University while Christopher was in school and spending time with him and his friends; but what he enjoyed most was serving the UAW Local 5 and everything that it stood for.
Bruce was employed as a bargaining chairman at A.M. General for 43 years. He graduated from Washington High School in 1974. Bruce was a member of Sons of American Legion Post 284, and United Auto Workers, Local 5.
Funeral services for Bruce will be held at 10:00 am on Saturday, January 6, 2018 at Palmer Funeral Home-Hickey Chapel, 17131 Cleveland Road, South Bend. Graveside services and burial will follow at St. Joseph Cemetery in South Bend. Friends may visit with the family from 4:00-8:00 pm on Friday, January 5 at the funeral home, and also from 9:00-10:00 am Saturday prior to services at the funeral home.
Expressions of sympathy in memory of Bruce may be donated to Military Honor Park, 4300 Terminal Drive, South Bend, IN 46628, or to a charity of the donor's choice.
Online condolences may be left for the Schweizer family at www.palmerfuneralhomes.com.
Published in South Bend Tribune on Jan. 2, 2018
jmc 2 jan 2018