In Memory
Georgianna Vercolio (Bennett) - Class Of 1959 VIEW PROFILE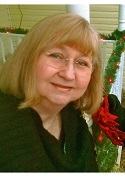 Georgiana Bennett
Aug. 22, 1941 - Mar. 28, 2021

ELKHART - Georgiana Bennett, known as "Georgi" to her family and friends passed away peacefully early Sunday morning. She was 79.

Her family and friends will remember Georgi as a devoted mother, grandmother, and a loving, loyal friend.

Born August 22, 1941 in South Bend, Indiana, she was the daughter of Noma Marian Farrester and George Washington Vercolio. She had four brothers. During her childhood her family frequently moved and she lived in many places including the cities of Mishawaka and Clinton, IN: and Riverside, CA.

Georgi graduated from Washington High School in 1959 and has maintained special, lifelong friendships with her classmates, whom she said had supported and sustained her through every phase of her life.

As Georgiana Vercolio, she married the late Walter Donald Bennett on April 6, 1962. Together they had one daughter, Deanna Lynn. During their marriage she helped to establish Bennett Motor Company, an auto repair and used car business. They divorced in 1973.

In the seventies, Georgi continued to pursue a career in auto sales; becoming one of the first women to sell cars in the South Bend area. A trail blazer among women, she won national sales awards from Ford and Pontiac.

After moving to Ormond Beach, Florida she obtained a Real Estate Broker's license and sold both homes and timesharing from 1978 - 1994. She later returned to Indiana and worked her way up to General Manager for the real estate development company Irish Homes, retiring in 2008.

She loved reading, upside down banana splits from Bonnie Doon's, classic cars, and of course - Elvis. But more than anything she loved driving her 1973 Mustang convertible, in which she and her daughter made a lifetime of memories.

Georgi, an accomplished writer, and a smart, witty, raconteuse was known for her short stories and anecdotes. She delighted people by weaving heartfelt, humorous tales of all the oddball things that seemed to only happen to her. In the past decade, she had several feature articles published in the South Bend Tribune. Everyone will miss her tales of times gone by.

Georgi belonged to the National Association of Realtors and The Michiana Writers Group.

Georgiana is survived by her cherished daughter Deanna (Christopher) Rodecki, and two grandsons: Andrew B. (Dusti) Rodecki and Evan P. Rodecki all of Elkhart. She is also survived by a brother, Louis G. Shew of Ft. Myers, Florida, many nieces, nephews, cousins, and some very special friends.

Preceding Georgi in death were her parents, and brothers: Grover M. Harbin, Thomas C. Harbin, and Robert L. Shew.

Memorial Services will be held Saturday, April 3 at Palmer Funeral Home - Welsheimer Chapel North 17033 Cleveland Road, South Bend IN. Visitation begins at 10 am with the funeral at noon. Interment will follow at Fairview Cemetery in Mishawaka.

Memorial contributions may be made to St. Jude Children's Research Hospital, 262 Danny Thomas Place, Memphis, TN 38105 or Hope Rescue Mission, 432 S. Lafayette Blvd., South Bend IN 46601. Online condolences may be expressed to the family at www.palmerfuneralhomes.com.

03/31/2021 JFC
Click here to see Georgianna's last Profile entry.