In Memory
Suzy Louise Ellis (Davis) - Class Of 1969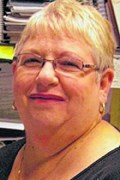 Washington 1969 Suzy Louise (Ellis) Davis
Apr. 30, 1951 - Nov. 25, 2017
SOUTH BEND, IN - "You fought the Good fight with dignity and pride.
May you rest my beloved Mother, Grandmother and Great Grandmother."
Suzy Louise Ellis Davis age 66 passed away on Saturday November 25, 2017 at 9:45AM at Central Florida Regional Hospital in Sanford Fl.
Suzy was the only child born to Norman and Doris Ellis in South Bend, Indiana on April 30, 1951. She was a graduate of Washington High School in South Bend, IN c/o 1969. She Married Leon V. Davis Jr on April 25, 1970. She Graduated from Ivy Tech in 1975 with her LPN. She later went on to receive her Registered Nurse associates degree on May 10, 1991. She is preceded in death by her parents, Maternal and Paternal grandparents, a sister Suzanne Ellis (deceased at birth), and grandchildren: Trevor and Troy Davis.
Suzy leaves to cherish loving and fond memories her Husband Leon V. Davis, Children Timothy Lamar Davis (South Bend IN), Jennifer Louise Davis, and Melissa Anne Davis (Sanford FL). Grandchildren: Treyvon Juwan Davis (Cincinnati OH), Lauren Jenae Gillon (Sanford FL), Timothy Ryan Davis (South Bend IN), and Tommie Lee Hunt Jr (Sanford FL). Great Grandchildren: Jacére and Tru Davis (Cincinnati OH). She was a Non-Biological Mother to Cecil (Comeco) Mourning (Maryland) and Joseph Mourning (West Palm Beach FL) and Non-Biological grandmother to Jaylen Keiths, Jaya Parker, Zachary and Lucas Aiken. Her loving spirit was a mother and grandmother figure to many. Her love extended abundantly to her In-laws Leon V. and Lois A. Davis Sr (South Bend IN) and Sister in Laws: Marilyn Brown, Felicia (Greg) Hill, Paulette (Arthur) Kelley Jr. (all of South Bend IN), also nieces, nephews, cousins, and friends. Although she loved everyone dearly she had a few special people dear to her heart, Kathy Hipskind, Joi Marvin Giger-Forrest, Brenda Toppins, Shonte, Elias (Mitchell-Elias family), Kendra and Jonathan Aiken, Joyce Virgo, Hardie and Perl Blake.
Suzy, spent the majority of her life in South Bend Indiana where she was able to spread her love and knowledge of nursing and caretaking over the years to many places. Cardinal Nursing home, Saint Joseph Medical Center, South Bend Public Schools, Partners Insurance, Interim Healthcare, Liberty Mutual Insurance company, until finally retiring from Select Health Network. On December 19, 2011, she retired to Sanford FL. where she spent the rest of her life loving and caring for her children and grandchildren.
Suzy Davis cherished her family above all, and we were grateful and truly honored to all have had the opportunity to bask in her love. She was loved by many and touched many lives. She will truly be missed.
A Memorial Service will be held at 6 PM Thursday December 28, 2017 at the Ardmore-LaSalle Church of Christ, located at 55501 Moss Rd in South Bend IN 46628.
Published in South Bend Tribune on Dec. 27, 2017
jmc 27 dec 2017