In Memory
Marilyn Manion (Thies) - Class Of 1955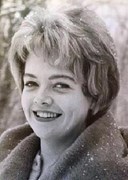 Washington 1955 Marilyn (Manion) Thies
Oct. 17, 1937 - Nov. 7, 2017
SOUTH BEND - Marilyn Manion Thies, 80, of Hillsborough, NJ, most recently of Tallahassee, FL, passed away on Nov. 7, 2017.
Marilyn was born in 1937 and was the oldest of five children. She was raised on her parents' farm on the banks of the St. Joe River, in South Bend, IN, affectionately known as Manion Canyon. As a child, she and her family traveled throughout the Midwest showing their Arabian horses. She graduated from Washington Clay High School in 1955, Georgetown Visitation Junior College in 1957 and St. Mary's College in 1959.
Marilyn taught fifth grade at Christ the King School in South Bend and then spent a year in Tiquisate, Guatemala teaching English for the United Fruit Company. For many years thereafter, she worked for the Manion Forum, where she wrote for the Manion Forum Newsletter.
During the 1960s, Marilyn was active in Republican politics. She was twice elected Delegate to the IN Republican Convention and was also elected to the National Board of Directors and served as national secretary for Young Americans for Freedom. In 1964, she traveled the country giving speeches in support of Barry Goldwater for President.
As a homemaker, she volunteered her time at the Natural History museums in New York City and Cleveland, Ohio and later applied her writing talents at several public relations positions. After she and her husband retired they traveled the world together.
Marilyn was preceded in death by her parents, Clarence Manion and Virginia O'Brien Manion as well her husband, Thomas William Thies. She is survived by her son, Charles (Elizabeth) of Tallahassee, FL, daughter, Virginia Spicka (James) of Waukesha, WI, as well as three grandchildren, Anderson and Annika Thies and Paige Spicka. Other survivors include siblings, Carolyn (Peter) Butler of Wilton, CT, Daniel (Ann) Manion of South Bend, IN, Diana (David) Woodhead of Carmel, CA, and Christopher (Theresa) Manion of Front Royal, VA, as well as 19 nieces and nephews.
A Memorial Service will be held at noon on Saturday, Dec. 2, at Christ the King Church, South Bend, IN. In lieu of flowers, memorial contributions may be made to St. Mary's College, Notre Dame, IN. Online condolences may be left at www.kaniewski.com.
Published in South Bend Tribune on Nov. 26, 2017
jmc 26 nov 2017