In Memory
Robert L Fitz - Class Of 1967 VIEW PROFILE
Information from Tammy Fitz Pavleko 09/17/2019 JFC
Deceased Classmate: Robert Lee Fitz 1967
Obituary Link: Published in the South Bend Tribune July 21, 1971
Date Of Birth: 10-31-1948
Date Deceased: 07-20-1971
Age at Death: 22
Cause of Death: Brain tumor; meningitis
Classmate City: South Bend
Classmate State: IN
Classmate Country: USA
Was a Veteran: No
Survived By: Tammy (Fitz)Pavlekovich-daughter; Jack Pavlekovich-son-in-law; Ashlee Pavlekovich-granddaughter Jamie Pavlekovich-granddaughter

Although I don't remember my dad, he passed when I was 2 years old. I heard many stories how he was a great man, loving and funny guy who would do anything to help you out, even give you the shirt off his back if needed. I'm proud to say that I'm his daughter. The one thing I do know is that we graduated from the same high school just 20 years apart. My dad, Bobby graduated in 1967 and I, myself graduated from WHS, in 1987, same school, I believe same date, just 20 years later. I'm proud of that. And I'm proud to be Bobby's girl!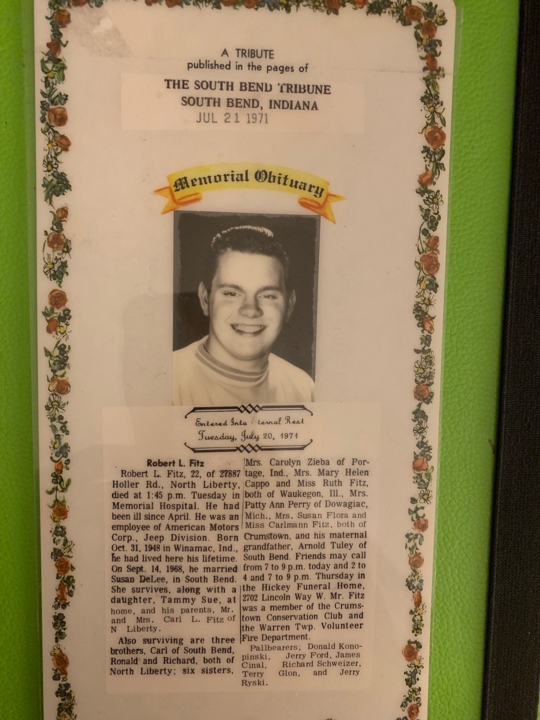 09/17/2019 JFC
Click here to see Robert L's last Profile entry.