In Memory
Michael "Piano Man: Vaszari - Class Of 1958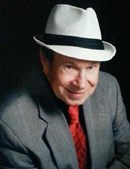 Washington 1958 Michael "Piano Man" Vaszari
Dec. 28, 1940 - Nov. 9, 2017
SOUTH BEND - A South Bend Music Legend, Michael Charles Vaszari, 76, passed away softly and entered heaven surrounded by his loving family, listening to his band playing "Georgia On My Mind" on Thursday, November 9, 2017 in Memorial Hospital. Room 217 (ICU) was filled with abundant love, celebrating Mike's life. His last wish was to hold on to see his sister, Annie, traveling from Milan, Italy. Mike got his wish. Now he is in heaven on his piano with his favorite drummer/wife, Barbara and their biggest fan, son Ron.
Mike was born December 28, 1940 in South Bend to the late Michael and Marie (Harringer) Vaszari. On February 24, 1962, Mike married Barbara L. (Fish) Vaszari. She preceded him in death on October 14, 2000. Mike was also preceded in death by his son, Ronald M. Vaszari, an infant sister, Susan Marie and his beloved dog, Misty.
Survivors of Mike include his daughter, Angie and her husband, Oscar Vaszari-Evans of Muncie, IN; granddaughters, Angel & Hailee Grace Evans; granddog , Bentley; daughter-in-law, Laura Vaszari; a sister, Annie Pacini; brother-in-law, David Fish; companion, Lucy Deguch; a niece, Dana Fish; and nephews, David Fish, Checco Pacini and Nino Pacini.
Mike was a 1958 graduate of Washington High School. As a proud Panther Alum he attended sporting events, nominated athletes for their hall of fame and was a coordinator of the class reunion committee. He retired from the Osco Drug Store, previously known as Tuesley Drug. He was a member of the Knights of Columbus, Elks & Moose Lodge, Isaac Walton League, St. Joseph Youth Club, Holy Cross Alumni Club, and was Captain of the St. Patrick's Ushers Club for 50 years. Mike was a classically trained pianist but fell in love with rock and roll as a teenager. His first band was "The Accents". He then became the band leader in multiple bands: Mike Vaszari Combo, Trio, Quartet, and Sophisticated Jazz Trio. He hosted Mike Vaszari Blues and Jazz Jam and held musician breakfasts. Mike was a huge advocate for local musicians and supported local live entertainment. Not only did he have a talent for playing music, he also composed music and was a freelance writer for major greeting card companies. Mike coached basketball and little league baseball for teams his son played on. He was an avid Cubs, Bears and Notre Dame fan and enjoyed attending sporting events with Lucy. Mike was a gentle, kind, sharply-dressed man who loved his family, friends and faith. Instead of Goodbye, Go Irish!
Visitation for Mike will be held 2:00 pm to 8:00 pm, Tuesday, November 14, 2017 in ST. JOSEPH FUNERAL HOME, 824 S. Mayflower Rd. with a Rosary to be prayed at 7:00 pm. A Mass of Christian Burial will be celebrated at 10:00 am Wednesday, November 15, 2017 in St. Patrick Catholic Church. Burial will follow at St. Joseph Cemetery.
For those who like to "Jam" an additional Wake will be held at Fiddler's Hearth from 6 p.m. to 8 p.m. and during acoustic open stage from 8:30-close. The family would love for all musicians to come and play in Mike's honor.
In lieu of flowers, enjoy live music and support local musicians in Mike's honor.
Condolences for the family may be made at www.sjfh.net.
Published in South Bend Tribune on Nov. 12, 2017
jmc 12 nov 2017