In Memory
Elsie Dobos (Orban) - Class Of 1938 VIEW PROFILE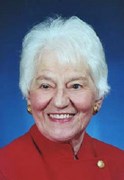 Washington 1938 Elsie R (Dobos) Orban
Oct. 30, 1919 - Nov. 1, 2017
SOUTH BEND - Elsie Rose Orban, 98, passed away on November 1, 2017 at Southfield Village, South Bend.
Born on October 30, 1919 to Stephen and Mary Dobos in New York City, Elsie was a resident of "The Big Apple" only briefly, but absorbed enough big city energy to keep her fueled for nearly a century. Her birthplace also seemed to imprint a bit of "star power" upon her, as she went on to be a violinist with the South Bend Junior Symphony, a cheerleader in the first graduating class of Washington High School, a regular performer of Hungarian harvest dances at community celebrations, and a mother who tap danced while she cooked and sewed prom dresses with the skill of a Manhattan fashion designer. While she and fellow harvest dancer David Orban were never partnered for performances, they decided to be partners in life and were wed on May 9, 1942. Together, they continued to tear up the dance floor like Fred & Ginger, as well as raise four spirited daughters, until Dave's death in 1974. Not long after, Elsie began taking driver's education classes alongside her then teenage daughter, acquiring her first driver's license at age 54. A graduate of the South Bend College of Commerce, Elsie went on to serve as Assistant to the Dean of the Graduate School of the University of Notre Dame for 17 years, and was also a Keenan Hall Fellow, before retiring in 1986. Rather than resting on her laurels, she then started on a new path. Already known for hosting frequent dinner parties and decorating for every holiday, Elsie decided to turn her charming East South Street home into a bed & breakfast, where she welcomed many of the same Notre Dame alumni and parents for 20 years. Having frequent visitors in her home fed Elsie's love of meeting new people, as did her annual Amtrak trips to and from Florida. It wasn't unusual for her to receive holiday cards from people she met during her travels; she made friends wherever she went. However, she was never away from her beloved Notre Dame for very long, though she could never watch the football games because they made her too nervous.
If you wanted to be in the center of the action in Elsie's home, you knew to head straight to the kitchen. There at the round Formica table, often as her cooking was simmering on the stove, Elsie shared in her family's triumphs and trials and offered sage advice. Jokes and the latest dance moves were also welcome while meals were prepared. As her family will attest, there was nothing that got Elsie's rolling pin moving like preparing for Christmas Eve, the major family gathering of the year. Elsie would begin baking her signature Hungarian kifli and kolaches in October to ensure she have enough time to create an abundant supply. The century-old family tradition of kifli making has thankfully been passed on to her granddaughter Kerry, along with the treasured rolling pin.
As the world around her changed tremendously over nearly 10 decades, Elsie learned to shift with the times. Her flexible and loving nature allowed her to be both a supportive parent and grandparent, even when she found herself in unfamiliar circumstances. A woman known for her warmth, kindness, immense emotional strength, insatiable love of chocolate, and inability to sing no other word than the title of "One" from the Broadway musical "A Chorus Line" (despite it being her "favorite" song), Elsie (alias "Mith", "Grammy", and "Agent 98") is survived, and dearly missed by daughters, Linda Orban (Bill Strauss) of Glen Allen, VA, Julie Butler of Middletown, CT, Karen Locke of Mishawaka, and Kathleen Orban (Sherry Bedingfield) of Tampa, FL; granddaughters, Laura Otolski (Jamie McCarthy) of Island of Malta, and Kerry O'Tolski (TJ Shanoff) and great-grandson Harrison David Shanoff of Chicago, IL.
Elsie's family wishes to express heartfelt gratitude to the Center for Hospice Care and staff of Southfield Village for the thoughtful and loving care they provided to her over the past four years. Memorial contributions may be made to The Southfield Village Foundation.
Viewing and visitation will take place Thursday, November 9th from 3-7 PM at Welsheimer Funeral Home North, 17033 Cleveland Rd. Funeral services will be held Friday, November 10th at 9:30 AM at the Basilica of the Sacred Heart, University of Notre Dame.
Family and friends may leave email condolences at www.welsheimer.com.
Published in South Bend Tribune from Nov. 5 to Nov. 8, 2017
jmc 5 nov 2017
Click here to see Elsie's last Profile entry.