In Memory
Geraldine Golubski (Bogaert) - Class Of 1943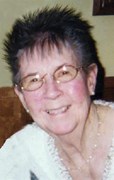 Washington 1943 Geraldine (Golubski) Bogaert
March 11, 1926 - Oct. 29, 2017
MISHAWAKA - Geraldine J. Bogaert, 91, passed away on Sunday, October 29, 2017, in Hospice House in Elkhart.
Geraldine was born on March 11, 1926, in South Bend, to the late Charles and Lottie (Lyczynski) Golubski.
On April 19, 1947, in South Bend, as the former Geraldine Golubski, she married Maurice Bogaert, who preceded her in death on May 22, 2009. She was also preceded by her brother, Victor Grayston.
Surviving are her sons, Gregory Bogaert (Nancy Coleman), Ricky Bogaert and Bradley Bogaert, all of Mishawaka; seven grandchildren, thirteen great-grandchildren, one great-great-grandchild; and a sister, Darlene Van De Voorde of Mishawaka.
Geraldine attended Washington High School from kindergarten until graduation in 1943. She played in the W.A.S Band. As an adult, Geraldine worked in the office at the Ball-Band Company and then later, in the Studebaker Office.
Geraldine made a Cursillo Catholic Retreat and was very active in the movement for several years. She made 3 cruises and went to Las Vegas many times, where she loved to play the slot machines. She was also a huge fan of Notre Dame Football and Notre Dame Women's Basketball, and made many trips out of town to see them play.
She was a member of St. Bavo Catholic Church, BK Club Ladies Auxiliary, where she was past president and the St. Bavo Home and School Association.
In Geraldine's own words, "I put my trust in God and he gave me a wonderful life. I became homebound. My youngest son, Bradley, moved in with me and became my care-taker. I was still mobile on a walker, but I could cook, do puzzle books and play solitaire. I thank God for my family and I love them dearly."
Visitation will be on Wednesday, November 1, 2017, from 4:00 p.m. to 7:00 p.m., with a wake prayer at 5:00 p.m. in Hahn Funeral Home, 505 W. 8th Street, Mishawaka. A Mass of Christian Burial will be on Thursday, November 2, at 10:00 a.m. in St. Bavo Catholic Church, Mishawaka. Burial will follow at Fairview Cemetery where she will be laid to rest next to her husband, Maurice.
As per Geraldine's request, memorial contributions may be made to St. Bavo Catholic Church, 511 W. 7th Street, Mishawaka, IN 46544,
To leave the family an online condolence, please visit www.hahnfuneralhomes.com.
Published in South Bend Tribune on Oct. 31, 2017
jmc 31 oct 2017