In Memory
Brian Lee Dougall - Class Of 1976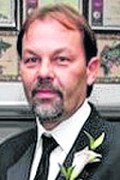 Washington 1976 Brian Lee Dougall
Feb. 20, 1958 - Oct. 18, 2017
SOUTH BEND, IN - Brian Lee Dougall, age 59, residing in South Bend, Indiana passed away at 3:40 am on Wednesday, October 18, 2017 at his home. Brian was a tool and die maker and his career took him to Superior Tool & Die, Elkhart; Dana Holding Corp, Mishawaka; and Precision Piece Parts, Elkhart.
Brian was born on February 20, 1958 in Mishawaka, Indiana to the late Laurence and Margaret "Joan" (Colcord) Dougall. On September 25, 2016, Brian married Tammey (Stevens) Dougall.
Along with his loving wife, Tammey; Brian is survived by three daughters, Jennifer (Aaron) Bertman of South Bend, Anna (Jeremy) McDaniel of Osceola and Katlyn Dougall of South Bend; his son, Brandon Dougall of Elkhart; three grandchildren, Nolan, Aubree and Olivia; two brothers, Bruce Dougall of Mishawaka and Kenneth "Ken" Dougall of South Bend. Brian is also survived by best friends and great neighbors, Samuel and June Speegle. One brother, Robin S. Dougall, preceded Brian in death on August 3, 2017.
Brian was a graduate of Washington High School and Elkhart Area Trade Center.
Brian was very passionate about gardening, canning and cooking. He loved camping, the outdoors, and being outside. He was an avid NASCAR fan.
Palmer Funeral Home-River Park and Southlawn Cremation Services are assisting the family. No services will be held at this time. Online condolences may be shared with the family at www.palmerfuneralhomes.com.
Published in South Bend Tribune on Oct. 21, 2017
jmc 20 oct 2017