In Memory
Terry Lee Budny - Class Of 1971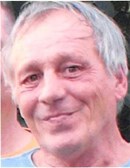 Washington 1971 Terry Lee Budny
Jan. 6, 1953 - Sept. 4, 2017
SOUTH BEND - Terry Lee Budny, 64, passed away on Monday, September 4, 2017, in Hospice House with his family by his side.
Terry was born January 6, 1953, in South Bend, to Edward and Lucille (Mejer) Budny. Terry was preceded in death by his father and grandparents, Frank & Carrie Budny, and Danny & Carrie Mejer.
Survivors of Terry include his loving mother, Lucille Budny; sister, Kathleen (Jim) Vargo; brothers, Eric (Mary Lou) Budny and Aaron (Dawn) Budny; nieces and nephew, Candace (Andy) Peregrine, Michelle, Dusty and Samantha Budny; great-nieces and nephew, Andi, Lily, Lilah, and Gabe Peregrine.
Terry graduated from Washington High School where he was an avid swimmer and ran track. He attended IU where he was a police cadet for 2 years. Terry then spent 25 years in Florida (Sanford and Ocala) as a self-employed contractor, building large homes. He enjoyed fishing, boating, woodworking, repairing anything mechanical, British sports cars, NASCAR racing and Notre Dame football. Terry also enjoyed talking to others, especially his friends in Florida and the neighborhood kids. He loved all water sports and playing cards with his family.
Visitation for Terry will be 4:00 pm to 8:00 pm Friday, September 8, 2017, in ST. JOSEPH FUNERAL HOME, 824 S. Mayflower Rd. A Funeral Ceremony will be celebrated at 10:00 am Saturday, September 9, 2017, in St. Joseph Funeral Home Chapel. Entombment will follow at St. Joseph Cemetery.
Memorial contributions may be made to St. Adalbert Catholic Church or to the Center for Hospice Care.
Condolences for the family may be made at www.sjfh.net.
Published in South Bend Tribune on Sept. 6, 2017
jmc 6 sep 2017