In Memory
Alma L Pasman (Wiley) - Class Of 1952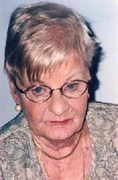 Washington 1952 Alma L "Dutch" (Pasman) Wiley
Jan. 25, 1934 - Aug. 26, 2017
SOUTH BEND - Alma L."Dutch" Wiley, 83, residing in South Bend, passed away at 11:45 a.m. Saturday, August 26, 2017 in her home, with her loving husband and family by her side.
She was born January 25, 1934 in South Bend, a daughter of the late Leo & Lillian (Young) Pasman, and was a graduate of Washington High School. On February 19, 1955 at Our Lady of Hungary Catholic Church, South Bend, Alma was united in marriage to Phillip E. Wiley who survives. In addition to her loving husband of 62 years, Alma is survived by two daughters, Karen (Darrell) Young; Joni (Patrick) Haase, and two sons, Jim (Sherri) Wiley, and Mark (Jennifer) Wiley, all of South Bend. She is also survived by eight grandchildren Erica (Justin) Warren, Rebecca (Ryan) Keeton, Carrington Haase, Spencer Haase, Kassidy Wiley, Tyler Wiley, Lillian Wiley and Benjamin Wiley, all of South Bend; five great-grandchildren, Tali, Gia, Vinny, and Olivia Wiley, and Oswin Keeton, along with her brother, James "Jake" (Nancy) Pasman of New Castle, IN.
Mrs. Wiley was formerly employed at the University of Notre Dame Library, as a Teacher's Aide and Crossing Guard with the South Bend Community School Corp., and later with both Northwest Fabric Store and DW wallcovering. She traveled to Disney World 33 times, but most important to her was caring for her home and her family.
In honor of Mrs. Wiley's request, no services will be held. The Palmer Funeral Home-Guisinger Chapel, South Bend is assisting the family with arrangements. Online condolences to the family may be sent to www.palmerfuneralhomes.com
Published in South Bend Tribune on Aug. 29, 2017
jmc 30 aug 2017