In Memory
Dorothy Jozwiak (Burzynski) - Class Of 1942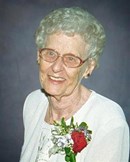 Washington 1942 Dorothy (Jozwiak) Burzynski
Jan. 13, 1924 - Aug. 23, 2017
SOUTH BEND - Dorothy Jozwiak Burzynski, 93, passed away on Wednesday evening at Hospice House, surrounded by her children and grandchildren, following a brief illness. Her family gives thanks for the privilege of witnessing her beautiful, peaceful transition to new life in God.
Born January 13, 1924 to Clara (Milewski) and Frank Jozwiak, Dorothy was a lifelong resident of South Bend's west side. After the early deaths of both of her parents during her childhood, Dorothy was lovingly raised by her blessed Busia Antoinette Milewski, in a home that eventually included not only her siblings, but aunts (especially Felicia Kominkiewicz), uncles, and cousins as well. She attended Saint Casimir's Grade School, Oliver Elementary and graduated from Washington High School in 1942.
As a young woman, Dorothy met the love of her life, Ernest Burzynski. While Ernie served, Dorothy, like so many local young women, worked at Bendix during the war while she anxiously awaited his return. When Ernie returned home at the end of the war and Saturdays at the churches were booked solid for weddings, they chose an open mid-week date, July 4, 1946. They would celebrate their anniversary with fireworks for sixty-one years.
Together, Ernie and Dorothy owned and operated a west side drug store and soda fountain, Warsaw Cut Rate, for eighteen years. When they closed the store, Dorothy assisted Ernie with the tax preparation business he ran out of their home and worked in several retail stores, retiring from Sears in 1986. Upon retirement, Dorothy lovingly gave many years helping in the care of all of her grandchildren.
Saint Casimir Parish was the center of Dorothy and Ernie's lives. They were people of deep and abiding faith, and St. Casimir was their home. They received all of their sacraments there as children, married there as adults, and watched their children and grandchildren celebrate there as well. Dorothy happily worked side-by-side with Ernie at many functions of the Holy Name Society, the Married Men's Club, and the Senior Citizens Club. Her family is grateful to the parish for everything it was in Dorothy's life and as the place where we will commend her to Heaven.
Dorothy will be remembered by her family as a kind heart and an easy laugh, a master baker who knew most of her recipes by heart, a tireless homemaker whose house was always immaculate, and a gracious hostess. Her basement was the place to celebrate every holiday and the scene of many happy rounds of cards. Most of all, she will be remembered as a woman who found her vocation in being a wife and mother, and whose energy to support her family (like the freezer space she kept for cookies) seemed to know no bounds.
Dorothy spent her final years at Holy Cross Village, and her family wishes to recognize the staff and residents there for the community they created for her as her physical limitations prevented her from the life she had known in healthier days. We are grateful to the team at Memorial Hospital's Heart and Vascular Unit, and truly without words to express our gratitude for the profound spiritual and physical care all of us received at the Center for Hospice Care during her transition.
She is survived by her brother, Leonard Jozwiak, as well as her three daughters, Janet (Stephen) Mitros, Kathleen (Richard) Alexander and Carole Scheibelhut; her eight grandchildren: Chip (Erin) Mitros, Dory Mitros (Michael) Durham and Kellye Mitros; Elizabeth (Kyle) Mucha; Sara (Josh DeLaurelle), Nicholas (Antoinette Wawrzyniak), Allison and Diana Scheibelhut; six great-grandsons and one great-granddaughter, and more on the way.
Dorothy was preceded in death by her parents and grandparents, devoted husband Ernie, sister Ruth Knapp Wise, brothers Gerald and Marion Jozwiak, and son-in-law John Scheibelhut. They, along with Ernie's siblings, were not just family, but friends. We know that these holy men and women, as well as the Saints to whom Dorothy had a lifelong devotion--Mary, Anthony, and Jude--were delighted to be reunited with their sister and friend in eternal life.
Friends may call in the St. Joseph Funeral Home on 824 S. Mayflower Road and Sample Road on Monday, August 28, 2017 from 3 to 8 p.m. The Rosary, one of Dorothy's favorite prayers, will be prayed at 6 p.m. A Mass of Resurrection will be celebrated on Tuesday, August 29, 2017 at Dorothy's beloved St. Casimir's at 10 a.m. Entombment will follow at St. Joseph Cemetery, South Bend.
Memorial contributions may be made to Center for Hospice or St. Casimir's Catholic Church.
Condolences for the family may be made at www.sjfh.net.
Published in South Bend Tribune from Aug. 26 to Aug. 27, 2017
jmc 26 aug 2017