In Memory
Damon Martell Bethel - Class Of 2006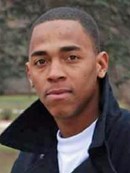 Washingtion 2006 Damon Martell Bethel
Jan. 30, 1988 - Aug. 2, 2017
SOUTH BEND - DaMon Martell Bethel, 29, resident of South Bend, passed away on Wednesday, August 2, 2017. DaMon was born on January 30, 1988, to the union of Steven Bethel Sr. and Marsha A. Duckworth.
At an early age, DaMon accepted Christ as his personal Savior. He attended Washington High School. DaMon held many jobs as a general laborer. DaMon had a great sense of humor. He loved to have fun and made everyone laugh. DaMon also loved to play basketball. The loves of his life were his children and family.
DaMon is survived by his parents, Ms. Marsha A. Duckworth of South Bend and Mr. Steven Bethel, Sr., of Michigan City, IN; three daughters, KaMarre Kennedy Monea Crawford-Bethel and KaMya Leah Anntionette Crawford-Bethel, both of South Bend; DaMyra Shavon Gregory-Bethel of Indianapolis, IN; one son, DaMon RaSean Michael Bethel of South Bend; and a special friend, Janaya Phillips of South Bend. DaMon is also survived by two sisters, Rakeesha Danielle Ren'ee Lane of South Bend and Corrie Bethel of Indianapolis; three brothers, Steven (Carchelle) Bethel and RaShaun D. Lane, both of South Bend, and TaVarius Bethel of Indianapolis; maternal grandparents, Brenda G. Ivory of South Bend and Joseph Duckworth, Jr., of Cleveland, OH; paternal grandparents, Eldrena Chism-Adams of Louisville, KY, and Curtis and Georgia Bethel, Sr., of South Bend; maternal aunts, Dominique Becker, JoVonda Duckworth, Jocelyn Duckworth, all of Cleveland, OH, and Alesia Ivory-Fluelen of South Bend; maternal uncles, Maurice (Cynthia) Burton of South Bend; Mark Duckworth of Las Vegas, NV; Roderick (Sharleen) Ivory, Eric (Julie) Ivory, and Dennis Jones, all of South Bend; paternal aunts, Kimberly L. (Donnie E.) Chism-Tucker, Renae Y. Adams, and Shannon F. (James) Robinson, all of Louisville, KY; paternal uncles, Michael (Robin) Greer, Douglas H. Adams III, and Mike Adams. DaMon also leaves behind a host of great-aunts, great-uncles, nieces, nephews, cousins and friends.
DaMon was preceded in death by maternal great-grandparents, Jessie Jr. and Icylee Lottie, Joseph and Nora Duckworth, Thomas B. Adams and Sarah Curry.
Funeral services for DaMon will be held at 1:00 pm on Friday, August 11, 2017, at Greater St. John Missionary Baptist Church, 101 N. Adams Street, South Bend. Pastor Andre McGhee will officiate. The family will receive friends from 12:00-1:00 pm on Friday at the church prior to the services.
Palmer Funeral Home - West Chapel, is assisting the family with arrangements. Online condolences may be left for the Bethel family at www.palmerfuneralhomes.com.
Published in South Bend Tribune on Aug. 9, 2017
jmc 8 aug 2017