In Memory
Thomas Burzynski - Class Of 1953 VIEW PROFILE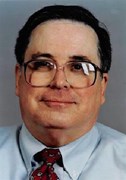 Washingtion 1953 Thomas F Burzynski
Jan. 1, 1936 - July 25, 2017
South Bend - Thomas F. Burzynski, 81, passed away on Tuesday, July 25, 2017 at Healthwin.
Tom was born January 1, 1936 in South Bend, to the late Frank and Stephany (Zalejski) Burzynski. On August 12, 1967 in St. Stephen's Catholic Church, Tom married Barbara (Chrapek) Burzynski; she preceded him in death on April 26, 1983. Tom was also preceded in death by his brother, Daniel Burzynski.
Survivors of Tom include his children, John (Robijo) Burzynski of South Bend, Margaret (Dan) Burzynski-Bays of Cleveland Heights, OH., Susan (John) Michel of Gibsonia, PA., and Mary Burzynski of South Bend; grandsons, Christopher, Michael and Stephen Burzynski, Andrew and David Bays, John and Nicholas Michel; and a great-granddaughter, Gabriella Burzynski.
Tom graduated from Washington High School in 1953, as a captain and letterman of the swim team. He graduated from the University of Notre Dame in 1958. Tom began his career as a teacher and head 7th and 8th grade football coach at St. Adalbert's School. At Marian High School, he was a teacher, vice principal, and assistant football coach.
Tom was the executive director for the March of Dimes, and led the Center for Hospice for 16 years as president. Tom was a Board Member of Dismas House and of the Indiana Association of Hospices. Tom was inducted into the South Bend Hall of Fame in 1997.
Tom enjoyed reading, crossword puzzles, and American history. He was a fan of Notre Dame football, the Green Bay Packers and the New York Yankees. Most of all, he loved making Sunday dinners for his family and celebrating holidays.
Visitation for Tom will be 3:00 to 7:00 p.m., Sunday, July 30, 2017 in ST. JOSEPH FUNERAL HOME, 824 S. Mayflower Rd. with a Rosary to be prayed at 4:30 p.m. A Mass of Christian Burial will be celebrated 10:00 a.m. on Monday, July 31, 2017 in St. Adalbert Catholic Church. Burial will follow at St. Joseph Cemetery.
Tom's family would like to extend a special thank you for the many years of skilled and compassionate care at Healthwin and especially to his nurses Judy, Marylen and Kathy. Also, thank you to Center for Hospice for providing peace and comfort in his last days.
In lieu of flowers, Memorial Contributions may be directed to the Hospice Foundation, 501 Comfort Place, Mishawaka, IN 46545.
Condolences for the family may be made at www.sjfh.net.
Published in South Bend Tribune on July 29, 2017
jmc 29 july 2017
Click here to see Thomas' last Profile entry.