In Memory
Delores T Zagzejewski (Switalski) - Class Of 1949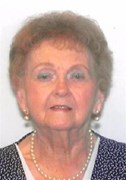 Washington 1949 Delores T (Zagzejewski) Switalski
Jan. 17, 1931 - June 24, 2017
SOUTH BEND - Delores T. Switalski, 86, passed away on Saturday, June 24, 2017.
Delores was born January 17, 1931, in South Bend, to the late Joseph and Josephine Zagrzejewski. On May 27, 1953, in St. Casimir Catholic Church, Delores married Melvin Switalski, who preceded her in death. She was also preceded in death by their son, Martin D. Switalski.
Survivors include her children, Denise Kimsey and Mark (Cynthia) Switalski; grandchildren, Kelly Miller, Sean (Elizabeth) Miller, Melissa Switalski and Miles Switalski; great-grandchildren, Arianna Nash, Sophia and Connor Miller.
Delores graduated as Salutatorian in 1949 from Washington H.S. She worked at Copco Steel and RACO. Delores enjoyed sewing, gardening, cooking delicious Polish dinners, and collecting elephants. She was a huge Notre Dame football fan. Her family and grandchildren brought her the most joy in life.
The family would like to thank the Center for Hospice Care for the exceptional care provided.
Visitation for Delores will be 5:00 pm to 8:00 pm, Friday, June 30, 2017, in ST. JOSEPH FUNERAL HOME, 824 Mayflower Rd. A Funeral Ceremony will be held 10:30 am Saturday, July 1, 2017, in the Funeral Home Chapel, with burial following at St. Joseph Cemetery.
Condolences for the family may be made at www.sjfh.net.
Published in South Bend Tribune on June 29, 2017
jmc 1 July 2017