In Memory
Alice B Rybicki (O'Chap) - Class Of 1945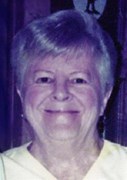 Washington 1945 Alice B (Rybicki) O'Chap
May 19, 1926 - Jun. 22, 2017
MISHAWAKA - Alice B. O'Chap, 91, of Mishawaka, passed away peacefully in her residence with her loving family by her side. Alice was born in South Bend on May 19, 1926 to the late Henry and Harriet Rybicki. Alice graduated from Washington High School as part of the Class of 1945. She worked many years at the St. Joseph County Clerk's office. Alice was a member of the St. Pius Catholic Church.
Alice is survived by her son, Gerald O'Chap, of Mishawaka, her brothers, John and his wife, Leona Rybicki and family along with Jim and his wife Lola Rybicki and family, her godson, Jim and his wife Linda Wantuck, and her adopted family, Oscar, Juanita, Andrea, and Diego Rodriguez. Alice is also survived by remaining O'Chap family members. Alice was preceded in death by a son, Thomas O'Chap and grandson, Thomas John "TJ" O'Chap.
A Mass of Christian Burial will be held on Thursday, June 29th at 10:30 AM in the St. Pius Catholic Church in Granger. Friends will be received one hour prior to the service at the church. She will be laid to rest in the Highland Cemetery in South Bend. Bubb Funeral Chapel assisted the family with arrangements.
Published in South Bend Tribune on June 27, 2017
jmc 28 June 2017