In Memory
Ann Gray (Brown) - Class Of 1965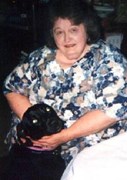 Washington 1965 Ann (Gray) Brown
June 13, 1947 - June 8, 2017
SOUTH BEND - Annette Brown, 69, passed away on Thursday, June 8, 2017 in her home.
Ann was born June 13, 1947 in South Bend, to the late Dorsey and Mayme (Gagne) Gray. Ann married Henry Brown Jr. in December of 1967; he preceded her in death on July 1, 2005. Annette was also preceded in death by a son, Jay Charles Brown in 1981 due to a house fire; and brothers, Jon and Donald Gray.
Ann was blessed and is survived by her children, James Henry Brown of Mishawaka, Julie Ann Brown of South Bend, Joan Warren of Dallas, TX, Jeffrey Allen (Rose) Brown of Phoenix, AZ, Jennifer Paulk of South Bend, and Joseph Brown of Mishawaka; 14 grandchildren; 14 great-grandchildren; brother, Robert Gray and several nieces and nephews.
Ann attended St. Casimir Grade School and was a graduate from Washington High School in 1965. She loved art, writing, and hoped someday to write a novel. Ann took time to raise seven children and never had the ambition to be the next Rembrandt or Stephen King, and regretted not spending more time trying to be one or the other. She did find interest in the 1990's in genealogy and found a hobby that she enjoyed with a passion. Ann found people from all over the world related to her and her husband and she loved every minute of the search and discovery.
Ann was known to all her friends and fellow workers as Ann. She retired from the old St. Joseph Regional Hospital where she was a Medical Transcriptionist for 28 years. Ann's last wish is for her friends and family to gather at Hacienda at a later date to celebrate her life and reminisce about the fun they had together.
Raising Ann's children to be good and responsible adults was her main triumph and her greatest tragedy with the loss of one of her children. Her most treasured times were spent with friends and family and most grateful. A special goodbye to her breakfast buddies. Keep meeting, and have a cup of coffee and toast to Ann once in a while, and remember all the good times that were shared together.
A Gathering for Ann will be 10:00 am to 12:00 pm, Tuesday, June 13, 2017 in ST. JOSEPH FUNERAL HOME, 1827 E. Ireland Rd. with a Funeral Service to begin at 12:00 pm in the funeral home.
In lieu of flowers, memorial contributions may be made to a charity of choice .
Condolences for the family may be made at www.sjfh.net.
Published in South Bend Tribune on June 11, 2017 - See more at: http://www.legacy.com/obituaries/southbendtribune/obituary.aspx?n=annette-brown-ann&pid=185770840&fhid=8737&eid=sp_ommatch#sthash.r56T6dYc.dpuf
jmc 12jun2017