In Memory
Willila M Brooks (Sanchez) - Class Of 1945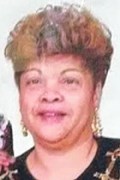 Washington 1945 Willia M (Brooks) Sanchez
May 14, 1937 - June 3, 2017
SOUTH BEND - Willia M. Sanchez, 80 years old, of South Bend, Indiana, entered into Eternal rest at 6:35 AM on June 3, 2017, at the Heartland Rehabilitation Center in Battle Creek, Michigan, following complications from an Illness. Her loving family was by her side.
She was born May 14, 1937, in Signey, Arkansas, to the union of June and Eartha Brooks.
Willia I grew up in South Bend, Indiana, were she attended Washington High School. After high school she chose to work in various different fields that all had one common bond, "To help and be of Service to those in need." Willia confessed her faith and hope in Christ at an early age and that decision guided and Shaped her Various career choices.
She worked hard and received many certificates and awards for her various accomplishments and achievements throughout her life, some of which included a volunteer police officer, a board member of the Red Cross, a local community advocate, a counselor at the family and children center, a member of the Indiana state board of health (Treasury) and a diversity coach at Ivy Tech and Holy Cross College. She was a self-employed private duty nurse's aide specialIzing in Elderly and Hospice Healthcare. She provided Comfort and Health related services to many of her family members as well as her community at large.
Willia was also a Foster Mother for the St. Joseph County foster care system where she fostered, nurtured and provided a safe home for over 55 children in a forty-year span. She loved and created a unique bond with each and everyone of one of the children she fostered.
But the thing that gave her the greatest sense of joy, satisfaction and purpose were the acts of service that she provided for her church, Pentecostal Church of God in Christ. In her 30 years of Membership & Fellowship Under the leadership of Bishop Donald L. Alford Sr. she served on countless different committees including the Chairman of Hospitality, the Chairman of Funerals and The Church Community Liaison and Advocate. She was on the Mothers, Nurses and Ushers Boards and found time to Help prepare meals for those in need. She was also the "In house" Creative Costume designer for various different Plays and Church functions.
She had many different hobbies which included gardening, she had many different hobbies which included cars and motorcycles, cooking (eating) gardening, sewing, travel and watching her soap operas.
Willia was a skilled woman in many trades and used them all to serve her God, her family, her church and her community.
Willia married Benjamin Tucker Gray Sr. on Aug 10, 1953, in South Bend, Indiana, and in that union they created five beautiful children together.
Willia is preceded in death by her son, Bradford Gray, Sister, Thelma (Martin Jr)Jones, brother, Nathaniel Brooks, Grandchildren, Kenya Burnett and Brandon Gray.
She is survived by Two Sisters, Velma Luise of South Bend, Indiana. Three daughters, Beverly Gray of South Bend, Indiana, Barbara Gray of Fort Wayne, Indiana, and Bridgette Gray of Battle Creek, Michigan, Son, Benjamin Tucker Gray Jr. (Meechie Gray), also Battle Creek, Michigan. She also had four children Who were very special to her heart which included Tammy Thompson, Vicki Nicks, Misty Swallow and Durron Cook. Willia also had 11 grandchildren, Which includes Stacy Gray, Kenyhan Gray, Julius Smith, Sheleaha Egly, Benika Gray, DaWaun Keene, Kenya Burnett, Benjamin Gray, Shana Washington, Andrea Lecheyl Gray, Robert Deon Jones; great-grandchildren and two great-great-grandchildren. Willia was a Step Mother, Foster Mother, God Mother to so many. She was a unique woman loved by many; her Special friends included Robert Hurron, John Lot and Ollie Moffett.
Services for Willia M. Sanchez will be held at Pentecostal Cathedral on Saturday, June 10, 2017. at 12:00 p.m., with viewing occurring from 11:00 a.m., to noon.
Arrangements entrusted to ALFORD'S MORTUARY.
Visit our website at www.AlfordsMortuaryInc.com to sign family guestbook.
Published in South Bend Tribune on June 8, 2017
- See more at: http://www.legacy.com/obituaries/southbendtribune/obituary.aspx?n=willia-m-sanchez&pid=185742645&fhid=8823&eid=sp_ommatch#sthash.jiDth9m6.dpuf
jmc 8jun2017