In Memory
Jonathan Floyd Esters - Class Of 1968 VIEW PROFILE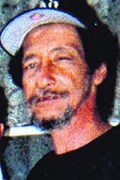 Washington 1968 Jonathan Floyd Esters Sr
April 24, 1950 - May 12, 2017
SOUTH BEND - Mr. Jonathan Floyd Esters, Sr., 67, of South Bend, IN, passed at 11:10 p.m. on Friday, May 12, 2017.
Jonathan was born to Jack Floyd and Dorothy Louise (Anderson) Esters on April 24, 195 in South Bend, IN, who both preceded him in death along with a son, Wayland Perkins, a brother, Frederick Julian Esters, his father & mother-in-law, Wesley Gavin & Lorraine Perkins.
Jonathan, a lifetime resident, graduated from Washington High School. He married Beverly Perkins on March 22, 1979, in Chicago, IL. He worked for AM General as an assembler, Continental Bus Co. as a mechanic, and he also was a self-employed auto mechanic. His hobbies were music, fishing and walking.
Survivors left to cherish his memory include his wife, Beverly Esters of South Bend, IN; two daughters, Elquita Terry of Flint, MI, and Lorraine Perkins of South Bend, IN; two sons, Jonathan Floyd Esters, Jr., and Shawn Ivory, both of South Bend, IN; 9 grandchildren which included four special grandchildren, Tashiana, Taji, Alford and DeVontae; five great-grandchildren; five sisters, Kathy Lott of Indianapolis, IN, Jacquelyn Smith and Patricia Slater, both of South Bend, IN, Judith Welch (Frank) Smith of Decatur, GA, and Etta (Andrew) Palmer of Rowlett, TX; three brothers, Donald (Clara) Anderson of Penn, MI, Dennis (Donna)Rickman of Oliver, MI, and Charles (Sundra) Esters of Mesquite, TX; cousins, John Anderson and James Wheeler, Jr., both of South Bend, IN; two sisters-in-law, Delores (Ravertis) Spencer of Missouri and Anna Gavins of Chicago, IL; a brother-in-law, Ricky Perkins of Chicago, IL; along with a host of other relatives and friends.
Services will be held at 11:00 a.m. on Saturday, May 20, 2017, at Alford's Mortuary, with viewing from 10:00 a.m. to 11:00 a.m.
Arrangements entrusted to ALFORD'S MORTUARY.
Visit our website to sign our family guestbook at www.AlfordsMortuaryInc.com.
Published in South Bend Tribune on May 17, 2017
- See more at: http://www.legacy.com/obituaries/southbendtribune/obituary.aspx?n=jonathan-floyd-esters&pid=185411542&fhid=8823&eid=sp_ommatch#sthash.4eazNbBH.dpuf
jmc 17 may 2017
Click here to see Jonathan Floyd's last Profile entry.