In Memory
Harold L Houghton - Class Of 1976 VIEW PROFILE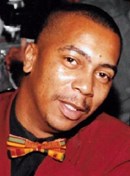 Washingtion 1976 Harold L Houghton
July 31, 1958 - April 25, 2017
MACOMB, MI - Harold L. Houghton departed this life at the age of 58, on April 25, 2017, surrounded by family at the St. John Macomb-Oakland Hospital in Warren, Michigan, after an extended illness.
Harold was born on July 31, 1958, to Willie Mae (Taylor) Houghton-Gunn and Jimmie Lee Houghton in Bradford, Tennessee, the third of three children to this union. He was baptized at an early age in Bradford. His family moved to South Bend in December 1966, and he graduated from Washington High School.
Harold worked more than fifteen years at Kroger as a Department Head for Indiana. He retired as a Regional Manager from Comcast in Michigan, after almost 25 years of service. Harold participated in various volunteering roles while both a Kroger and Comcast employee.
Harold was a big football fan and could always be seen cheering on Notre Dame and the Chicago Bears. After learning how to bowl, he became a very avid bowler. He also loved getting out on the golf course every now and then. Harold was a family man and loved playing card games with family, especially bid whist and tonk. He developed a love for plays and musicals which he would attend with his wife. As a child, he participated in Little League baseball and football, and his love for ball turned into playing on several adult softball teams. His family was his life.
Harold was preceded in death by his stepfather and mother, Theodore and Willie Mae Gunn; father, Jimmie Lee Houghton; and grandparents, Rev. Landers and Luvern King. Cherishing his memories and mourning his loss are his wife, LaRae; his daughter, Della L. Jennings; and his two brothers, Lonnie Carl Houghton and Anthony Tyrone (Glenda) Houghton. He is also survived by a host of relatives, loved ones and friends.
Funeral services for Harold will be held at 1:00pm on Monday, May 1, 2017 at Palmer Funeral Home-West Chapel, 2702 Lincolnway West, South Bend, IN. Shawn Gunn will officiate. Graveside services and burial will follow at Southlawn Cemetery. Friends may visit with the family from 12:00-1:00pm on Monday prior to services at the funeral home.
Online condolences may be left for the Houghton family at www.palmerfuneralhomes.com.
Published in South Bend Tribune on Apr. 30, 2017
Edit JMC
Click here to see Harold L's last Profile entry.