In Memory
Robert Richard - Class Of 1969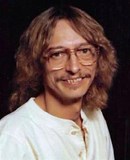 Washington 1969 Robert Richard
June 29, 1951 - April 9, 2017
SOUTH BEND - Robert E. "Crickett" Richard, 65, passed away on Sunday, April 9, 2017 in his home.
Robert was born on June 29, 1951 in Concord, New Hampshire to the late Joseph E.R. Richard and Nancy E. (Brown) Marcotte.
Survivors of Crickett include a daughter, Brooke Hoskins of Martinsville; siblings, Roger (Kathleen) Richard of Walkerton, Donna (Wayne) Laughlin of South Bend, Lewis (Tami) Marcotte of Osceola, Richard (Jennifer) Marcotte of South Bend and Joseph (Lisa) Richard of Concord, NH; three grandchildren, Emma, Donnie and Sara, and many nieces and nephews.
Crickett was a graduate of Washington High School and a member of The Teamsters local Union. Crickett loved drawing cartoon characters. He was a collector of anything related to crickets. Crickett enjoyed listening to classic rock 'n' roll, particularly "The Beatles". He enjoyed walking and being outside and travelling the country. Crickett loved watching Notre Dame football. Most of all, he loved spending time with family and friends. Crickett brought joy to all those around him and he always had a smile on his face.
Heaven has gained another Angel from our amazing family. Crickett was an awesome man who lived a pretty simple life by always cherishing the small things.
A Gathering for Crickett will be from 4:00 pm to 8:00 pm on Friday, April 28, 2017 at St. Joseph Funeral Home, 824 S. Mayflower Rd.
In lieu of flowers, memorial contributions may be directed to the family.
Condolences for the family may be made at www.sjfh.net.
Published in South Bend Tribune on Apr. 23, 2017
- See more at: http://www.legacy.com/obituaries/southbendtribune/obituary.aspx?n=robert-richard-crickett&pid=185180031&fhid=8736&eid=sp_ommatch#sthash.G4aQdPhl.dpuf