In Memory
Jacob H Gour - Class Of 1956 VIEW PROFILE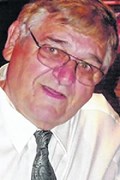 Washington 1956 Jacob H Gour
April 16, 1938 - April 15, 2017
MISHAWAKA - On Saturday, April 15, 2017, Jacob H. Gour (Jake) passed away at the age of 78. Jake was born on April 16, 1938 to Jack and Bertha (Shafer) Gour in South Bend, Indiana. After graduating from Washington High School, this "Lover of Life" married the "Love of His Life" Toni on October 25, 1958. Jake and Toni celebrated 58 years of marriage and during that time were blessed with two sons Tris and Terry.
Jake had a very strong work ethic and during his career became an accomplished sales professional and entrepreneur. His sales career began in the Food Industry where he sold to many area restaurants, country clubs, and other dining establishments. It was during that time that Jake also became an Entertainment Broker booking his son Tris' band, "The New Horizon", in many of the finest clubs located in the Midwest. Jake also learned the art of Sound Mixing for the band and attended nearly every performance.
During the mid 1980's, Jake embarked on a new career journey becoming a Franchise Dealer for Matco Tools. Jake made many friends in the automotive repair industry and was best known for being the Matco Man with his "Traveling Tool Dog Assistant, PeeWee". Jake received several awards along the course of this career. His love of Stock Car Racing also extended to the local Racing Community. Jake helped and supported the racer's he could and you'd often find him (and PeeWee) cheering on his favorites up to three times a week.
Jake also loved computers and during the early 1990's became involved in his son Terry's business, JT Systems (now MicroIntegration). He loved technology and his "gadgets". His experience in sales, as an entrepreneur, and his never quit attitude provided a foundation for Terry to build a customer focused technology company that Terry leads today.
To complete his career, Jake served as the Chief Financial Officer of Industrial Safety and Environmental Services, Inc. He spent over 10 years of his life managing the difficult administrative challenges that came his way. He became part of the team and will never be forgotten.
When thinking of Jake, everyone will always remember his Motorcycles. He loved to ride - and that he did! On Father's Day 2005, Tris and Terry gave him the motorcycle he rode until the end. His 2005 Honda Goldwing. After experiencing some "mini-strokes" a few years back, Jake had his pride and joy converted to a Trike as his balance wasn't quite what it needed to be. Just last summer, Jake had his pride and joy painted a beautiful bright blue!
In addition to Toni, Jake left his two children Tris and Terry and their wives Gloria and Stacy. Jake also left one older brother Ollie and his wife Vivian. As if his life wasn't big enough, Jake dearly loved and enjoyed his six grandchildren, Shannon, Ryan, Jason, Britnee, Ella, and Leah, and finally his four great grandchildren, Addyson, Lilly, Annabelle, and Autumn.
Friends and family will be received on Wednesday, April 19th, from 3:00 - 5:00 pm, at Chapel Hill Funeral Home, 10776 McKinley Highway, Osceola, Indiana. A funeral service in Jake's honor will be held at 5:00 pm following visitation at the funeral home with Reverend Monsignor Bill officiating. Burial will be in Chapel Hill Memorial Gardens. In lieu of flowers, the family requests that donations be made to the American Stroke Association , National Center, 7272 Greenville Avenue, Dallas TX 75231. To leave an online condolence or sign the guest book, please visit www.chapelhillmemorial.com.
Published in South Bend Tribune from Apr. 18 to Apr. 19, 2017
- See more at: http://www.legacy.com/obituaries/southbendtribune/obituary.aspx?n=jacob-gour&pid=185119459&fhid=8832&eid=sp_ommatch#sthash.dAPz3bvv.dpuf
Click here to see Jacob H's last Profile entry.