In Memory
Emma M Dhaene (Ciesielski) - Class Of 1938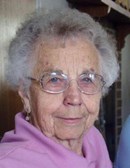 Washington 1938 Emma M (Dhaene) Ciesielski
June 13, 1920 - April 12, 2017
SOUTH BEND - Emma M. Ciesielski passed away Wednesday, April 12, 2017, in the Holy Cross Village at Notre Dame.
Emma was born on June 13, 1920, in South Bend, to the late Frank and Clarise (Coppieters) Dhaene. She was a graduate of Washington High School and lived her life in South Bend, a community she loved.
On May 22, 1948, at Sacred Heart Church, Emma married the love of her life, Casimir J. Ciesielski, who preceded her in death on March 30, 2008. Emma is also preceded in death by a sister, Phyllis Rzepka.
Emma is survived by her daughters, Pamela Horvath of South Bend, and Carol Ciesielski of Chicago; granddaughter, Angela Horvath of San Diego; and numerous nieces and nephews.
Emma was a loving, caring, gentle, and compassionate wife, mother, grandmother, sister, sister-in-law, aunt and friend to many. Her passing is an enormous loss for those who knew and loved her. She lived a full, healthy, and independent life. Emma loved knitting, making ceramics, attending family gatherings, card parties, going to restaurants, collecting recipes, and trying new cuisines. She was active in the St. Theresa Society, and a parishioner of St. John the Baptist Catholic Church. Emma enjoyed arts, including local theatrical productions. She avidly followed the news, read two newspapers every day, and supported progressive causes. Emma had a notable special love for animals, starting with her first Scottish Terrier, Angus, followed by Scottie, Skippy, Duffy, and feline Murphy.
The family wishes to thank the caretakers of Holy Cross Village at Notre Dame, River Crest Hospital and St. Joseph Regional Medical Center.
Visitation for Emma will be 9:00 am to 11:00 am, Saturday, April 15, 2017, in ST. JOSEPH FUNERAL HOME, 824 S. Mayflower Rd., with a Funeral Ceremony to begin at 11:00 am in the funeral home. Entombment will follow at St. Joseph Cemetery.
In lieu of flowers, please send Memorial Contributions to the Pet Refuge Shelter, 4626 Burnette Dr., South Bend, Indiana 46614; or Heartland Animal Shelter, PO Box 6033, South Bend, Indiana 46619.
Condolences for the family may be made at sjfh.net.
Published in South Bend Tribune on Apr. 13, 2017
- See more at: http://www.legacy.com/obituaries/southbendtribune/obituary.aspx?n=emma-m-ciesielski&pid=185067168&fhid=8736&eid=sp_ommatch#sthash.Vn95Mp5T.dpuf