In Memory
Marie Cholasinski (Dudzinski-Medich) - Class Of 1951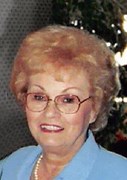 Washington 1951 Marie Dudzinski (Cholasinski) Medich
Aug. 15, 1933 - April 1, 2017
SOUTH BEND - "Be still and know that I am God" (Psalm 46:10). Marie Dudzinski Medich, aged 83, died peacefully on April 1, 2017, after a brief illness. Marie was born August 15, 1933, in South Bend, Indiana, the beloved daughter of Stanley Cholasinski and Severine (Barczykowski) Cholasinski. A brother, Daniel E. Cholasinski, preceded Marie in death.
Marie, a graduate of South Bend's Washington High School, retired as a buyer and bridal consultant for the Milady Shop in Mishawaka, Indiana, in 1989.
A consummate wife, mother, grandmother, homemaker, and friend, Marie exhibited excellent Polish cooking and baking skills. She especially enjoyed preparing special meals, such as Golumpki, Kielbasa, and Pierogi, for her family and friends. Marie loved to watch cable TV food and cooking channels. Over the years, Marie collected cookbooks from her favorite TV chefs. She was also an avid reader, favoring author John O'Hara, and an enthusiastic sports fan who delighted in watching Notre Dame football and Chicago Cubs baseball. Marie had an unwavering faith in God. She will be profoundly missed.
Marie married the love of her life, Joseph J. Dudzinski. He preceded her in death on January 20, 1991. Together Marie and Joseph built the home of their dreams in the country and raised a loving family: Richard, South Bend, Indiana; Karen (Tim) Keller, Grand Haven, Michigan; Mary Jo (Randy) Roth, St. Joseph, Michigan; Robert, South Bend, Indiana; and dear departed daughters, Michelle Andrea Taylor and Ann Marie Dudzinski. In addition, Marie is survived by adored grandchildren: Elizabeth, Jennifer, Katherine, Adam, Jeffery, and Jeremy, as well as much-loved great-grandchildren, Jacob, Meghan, Miranda, Gabriela, Lydia, Noah, and Naomi. Moreover, Marie is survived by favorite cousins, Loretta Taberski, Carol Swan, and Christine Kovach.
In 1996, Marie married Dan Medich. He survives.
To cherish and honor our beloved Marie, a private funeral service for immediate family members will be celebrated. Interment will follow at St. Joseph Cemetery.
In lieu of flowers, memorial contributions may be made to the American Cancer Society , 130 Coach Drive, Mishawaka, Indiana 46545. Condolences for the family may be made at www.sjfh.net.
Published in South Bend Tribune on Apr. 2, 2017
- See more at: http://www.legacy.com/obituaries/southbendtribune/obituary.aspx?n=marie-dudzinski-medich&pid=184796932&eid=sp_ommatch#sthash.KmUZxVx1.dpuf