In Memory
Kenneth J Soos - Class Of 1983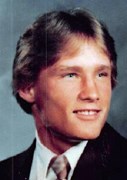 Washington 1983 Kenneth J Soos
Jan. 26, 1965 - March 10, 2017
SOUTH BEND - Kenneth J. Soos, 52, passed away March 10, 2017, in his home.
Kenneth was born January 26, 1965, in South Bend, to Dale and Patricia (Lesniewicz) Soos. Kenneth was preceded in death by his mother.
Survivors of Kenneth include his father, Dale Soos of South Bend; sister, Janet Soos of South Bend; brother, Jeffery Soos of Las Vegas, NV; nephew, Kyle Horvath of South Bend; and many aunts, uncles and cousins.
Ken graduated from Washington High School where he enjoyed playing baseball. He was an all-conference player for about 3 years and also was an all-state selection his junior year. Ken then later became an assistant baseball coach for Washington High School, which was truly his passion. He graduated with a bachelor's degree in business from University of Notre Dame, where he earned a baseball scholarship. He was a big Chicago Cubs, Bears and Notre Dame fan. He adopted his dog Charlie recently from PetsConnect!
Visitation for Ken is from 10:00 am to 12:00 pm Saturday, March 18, 2017, in ST. JOSEPH FUNERAL HOME, 824 S. Mayflower Rd. A Rosary will be prayed at 10:30 am and the Funeral Ceremony will begin at 12:00 pm.
In lieu of flowers, memorial contribution may be made to PetsConnect!, P.O. Box 8104, South Bend, IN 46660-8104.
Condolences for the family may be made at www.sjfh.net.
Published in South Bend Tribune on Mar. 12, 2017
- See more at: http://www.legacy.com/obituaries/southbendtribune/obituary.aspx?n=kenneth-j-soos&pid=184463929&fhid=8736&eid=sp_ommatch#sthash.eB5ygD1o.dpuf