In Memory
Ronald M Vaszari - Class Of 1980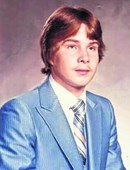 Washington 1980 Ronald M Vaszari
April 23, 1962 - Feb. 28, 2017
SOUTH BEND - Ronald M. Vaszari of Buford, GA passed away Tuesday, February 28, 2017 after a sudden illness at North Georgia Regional Hospital in Brasselton, GA.
Ron was born April 23, 1962 in South Bend, Indiana to his extremely proud parents Michael C. Vaszari and Barbara L (Fish) Vaszari. He graduated from Washington High School and Indiana University.
Ron Married the love of his life Laura Mackey on April 07, 1990. They were each others best friend and loved their life together with their fur babies, Nollie, Simba, Penny, Barnabus Boots McCoy (last of the kitty gunslingers) and Marmalade Aka "Marmie"
He is survived by his loving wife, Laura Vaszari, his father Mike Vaszari and companion, Lucy Deguch, sister, Angie (Oscar) Vaszari-Evans; step son, Thomas Mackey; his beloved nieces Angel & Hailee Grace Evans; uncle, David Fish; aunt, Annie Pacini; and cousins, Checco(Letes) Pancini, Nino Pacini, Dana (Erin) Poe and David Fish.
He was preceded in death by his mom, Barbara and his family is happy to know that he is enjoying a joyous reunion with his mom in Heaven.
Ron worked at Bluelinx Corporation as the Rebar/Remesh Manager, North Atlantic Division. He had a impeccable reputation as a knowledgeable, helpful, and supportive representative, Ron Always went the extra mile to get the job done and take care of his customer. He loved his work family.
Ron was a huge Disney fan and planned many precious vacations with his sister Angie. Ron & Laura traveled to many beautiful destinations and look forward to eternity together. Ron was also a very proud Special Olympics volunteer.
Family and friends are welcome to join Ron's family for a Celebration of his life in South Bend on March 25, 2017 at St. Patrick's Kelly Room, 208 S. Scott St. South Bend, IN from 2pm -6pm. Atlanta, Georgia Celebration of Life will be April 7th, check www.memorialparkfuneralhomes.com for details. In lieu of flowers, make a donation to you charity of choice . Ron was such a great guy! This world is little better because of Ron. Go Cubbies, Go Irish!
Published in South Bend Tribune on Mar. 7, 2017
- See more at: http://www.legacy.com/obituaries/southbendtribune/obituary.aspx?n=ronald-m-vaszari&pid=184385187&fhid=5648&eid=sp_ommatch#sthash.d7nqAQWE.dpuf