In Memory
Betty Jean Austin (Berry) - Class Of 1956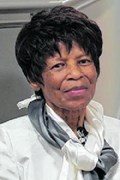 Washington 1956 Betty Jean (Austin) Berry
Feb. 04, 1938 - Feb. 21, 2017
SOUTH BEND - On Tuesday, February 21, 2017, a beautiful flower was plucked from this earthly garden. Surrounded by family and loved ones, Betty Berry was called to her eternal rest.
Betty Jean (Austin) Berry was born to the union of the late Samuel Austin Sr. and the late Vernator (Vernon) Austin on February 4, 1938, in Altheimer, Arkansas. When she was four years old Betty relocated to South Bend, Indiana with her family. Betty received her education at Washington High School and furthered her education at Indiana University at South Bend.
Betty met and married the late Burrell Berry Jr. and to their union, son, Barrett Tyson Berry was born. Barrett was Betty's only child and he was her pride and joy. She was a beautiful and devoted mother who strived to instill a sense of dignity, respect, and distinction into Barrett's life. Betty, a proponent of education, took pride in providing a private early school education for her son at Saint Joseph School (South Bend) and Trinity Lutheran School (Hawthorne, California). With intent, she exposed her son to a life without boundaries, limits, and expectations. Betty was always extremely proud of her son and took every opportunity to boast on him and his accomplishments.
From high school through retirement, Betty was a dedicated, working woman. While in South Bend, she worked for Memorial Hospital, The Urban League, and as the Assistant to the Dean of Freshmen Year Studies at the University of Notre Dame. Betty relocated to Santa Monica, California in the mid-1970's to assist her brother Geno with his businesses. She moved to Torrance, California where she spent her career in the 1980's and 1990's in the aerospace industry as a procurement professional. One of her greatest joys was working alongside her dear friends at Turning Point Magazine, which included, organizing events for First Lady Hilary Clinton, and managing the business affairs of American recording artist, Chaka Khan, and other entertainers.
Growing up, Betty attended Macedonia Missionary Baptist Church where she was baptized. She accepted Jesus Christ as her Lord and Saviour. Her favorite calling was that of serving as an aide to her pastor and Presiding Bishop Charles E. Blake, Sr. of West Angeles Church of God in Christ in Los Angeles. It was at West Angeles where she developed friendships with A- list Hollywood actors, professional athletes, and entertainers. Later in her life, Betty moved back to South Bend, and joined Pentecostal Cathedral Church of God in Christ to worship under the leadership of her childhood friend Bishop Donald Alford, Sr.
In her past-time, she enjoyed collecting treasures as a hobby. She also loved the Urban League, her Guild work, and attending the Links events. Betty was an unapologetically strong woman; she had a sweet voice and sassy personality that was a source of inspiration to many. She was always willing to help others---no questions asked and no judgments passed. She had the most generous, loving heart and touched many lives with her presence. Her family and friends will always be thankful to God for the GIFT that was HER LIFE.
Betty leaves behind a rich harvest of memories to cherish, honor, and emulate for survivors: son, Barrett (Rachel) Berry, of Charlotte, NC; sister, Debra (Richard) Jennings, of South Bend, IN; brother: William "Bill" (Jan) Austin, of Grand Rapids, MI; George "Geno" Austin, of Elkins WV; sister-in law Sunny Austin, of Elkins, WV; sister-in-law Joyce Ross of Silver Spring, MD; brother-in-law, Percy Jones, of South Bend, IN; brother-in-law, Carl Taylor, of South Bend, IN; god-daughter: Stephanie Owens, of Tampa, FL.; and a multitude of cousins, nieces, nephews, other relatives; and a host of life-long friends who enjoyed in her life's journey until the end.
Preceding her in death were her husband Burrell Berry Jr.; her parents Samuel Austin, Sr.; and Vernator Austin; sisters, Geraldine Cheaton, Estella Burrell, Barbara Jones, and Vernator Taylor; brother, Samuel Austin Jr.; and a nephew, Loren Taylor.
Services will be held at 11:00 a.m., on Saturday, February 25, 2017, at Pentecostal Cathedral Church of God in Christ with viewing occurring from 10:00 a.m., to 11:00 a.m.
Arrangements entrusted with ALFORD'S MORTUARY.
Visit our website to sign family guest book at: www.AlfordsMortuaryInc.com
Published in South Bend Tribune on Feb. 23, 2017
- See more at: http://www.legacy.com/obituaries/southbendtribune/obituary.aspx?n=betty-jean-berry&pid=184223939&fhid=8823&eid=sp_ommatch#sthash.T4X74zNf.dpuf