In Memory
Vicky White - Class Of 1977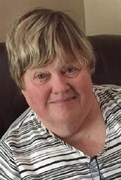 LaSalle 1977 Vicky White
Jan. 24, 1959 - Jan. 25, 2017
MISHAWAKA - Vicky Renee White, age 58, residing in Mishawaka, Indiana passed away at 2:01 am on Wednesday, January 25, 2017 at Memorial Hospital, South Bend, Indiana. Vicky was born on January 24, 1959 in South Bend, Indiana to William F. and Barbara J. (Ervin) White.
Vicky is survived by her mother, Barbara White of Mishawaka; sisters, Celia (Len) Moretti of South Bend, Sherry (Raymond) Landrum of Winamac and Wendi (Willard) Vest of Osceola; five nephews; one niece; four great-nieces and five great-nephews. Vicky was preceded in death by her father, William White.
Vicky was a graduate of LaSalle High School, South Bend. She worked in the kitchen at St. Mary's Convent for 18 years. Most recently Vicky worked in customer service for 21 years at Meijer Grape Road, Mishawaka.
Funeral services will be held at 11:00 am Saturday, January 28, 2017 at Palmer Funeral Home-River Park, 2528 Mishawaka Ave., South Bend, IN. Friends may visit with the family from 4-8 pm Friday and one hour prior to the service on Saturday in the funeral home. Burial will take place at Forrest Lawn Cemetery, Three Oaks, Michigan at a later date.
Contributions in memory of Vicky can be offered to Pet Refuge, 4626 Burnett Drive, South Bend, IN 46614 or Ronald McDonald Family Room at Memorial Hospital, 615 N. Michigan Street, 3rd Floor, South Bend, IN 46601. Online condolences may be expressed to the family at www.palmerfuneralhomes.com.
Published in South Bend Tribune on Jan. 27, 2017
- See more at: http://www.legacy.com/obituaries/southbendtribune/obituary.aspx?n=vicky-white&pid=183731746&fhid=7077&eid=sp_ommatch#sthash.NTGbrzbu.dpuf