In Memory
James L Corbett - Class Of 1962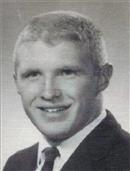 Washington 1962 James L Corbett
Feb. 24, 1943 - Dec. 16, 2016
SOUTH BEND - James L. Corbett, 73 passed away Friday, December 16th after an extended illness at West Bend Nursing Center.
James was born on February 24, 1943 in Mishawaka to the late Clarence E. Corbett and Alyce (DeWitte) Frederick. He was preceded in death by his wife Debra, daughter Patricia Turczynski and two (2) sons: James L. Corbett, II and Robert M. Corbett.
He is survived by his son David J. Corbett of South Bend and two grandchildren Nathan and Tearsa Turczynski, two sisters Eileen (Larry) Guyton of Granger, IN and Patricia Schmitt of Tucson, AZ and his brother Timothy Corbett of Granger, IN. James is also survived by the mother of his children, Mary Beth Corbett of South Bend.
James was a graduate of Washington High School, Class of 1962. He was employed by Kuert Concrete for over thirty (30) years as a truck driver.
James enjoyed working on cars and being outside doing yard work.
There will be no visitation or services. Mr. Corbett requested cremation and his family is honoring his wishes.
The family requests that any memorial contributions be made to Pet Refuge, 4626 Burnett Drive, South Bend, IN 46614.
The HANLEY and Sons "Southwest Chapel" Funeral Home & Cremation Services handled arrangements and extends its deepest sympathy and heartfelt prayers to the Corbett family.
Condolences may be expressed online through our website: www.hanleyandsonsfuneralhomes.com
Published in South Bend Tribune on Dec. 20, 2016
- See more at: http://www.legacy.com/obituaries/southbendtribune/obituary.aspx?n=james-l-corbett&pid=183150351&fhid=8849&eid=sp_ommatch#sthash.tPiq4Dvh.dpuf