In Memory
Daisy Mae Turner - Class Of 1959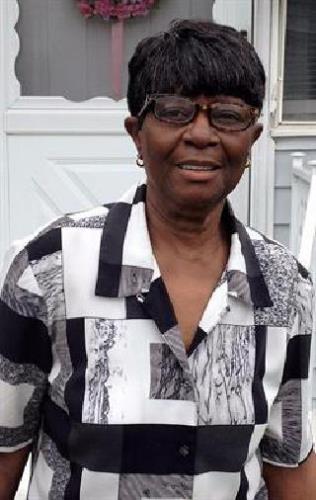 Washington 1959 Daisy Mae Turner
April 4, 1938 - Nov. 3, 2016
SOUTH BEND - Daisy Mae Turner born April 4, 1938, in Parkin, Arkansas, to Willie Nelson Turner and Lula Mildred Smith. Her family moved to South Bend, IN, at an early age being raised by her father and mother Lucille Turner. She was a graduate of Washington High School class of 1959.She was a beautician/hairdresser for over 25 years also retirement from Cardinal Nursing. After fighting a courageous battle of cancer she transitioned into glory on November 3, 2016, at Memorial Hospital with her nieces, Kay Shannon and Donna Ruffin of Lansing, MI, by her side.
Loved ones preceding her in death along with her parents were 2 sisters, Mildred Vaughn, Ella Mae Parchman, and a brother, Willie Turner Jr.
She was a faithful member of New Testament Missionary Baptist Church with duties on the food committee making her trademark dressing, and church clean up committee until her illness. She was a true friend to many and a very special Aunt to her nieces and nephews, and friend to her sister-in law. She also held a very special place in the lives of her close friend's children.
Daisy she leaves to cherish her memory 8 nieces and nephews, Edgar (Donna) Vaughn Jr. of Phoenix, AZ, Pinkie Henderson of Chicago, IL, Kulada Kay (Willie) Shannon and Donna (Norman) Ruffin, Roderick (Reanique) Turner of Lansing, MI, Willie (Terri) Turner III Fremont, IN, Cynthia Turner, Antonio (Rachel) Turner, and sister-in-law, Maeosie Turner of Flint, MI. Also numerous great-nieces, nephews and cousins.
The family wishes to extend special thanks to her very special dear friends, and the many drivers of Ms. Daisy: including Oma Moore, Sally Carpenter, Louise Bethany, Jackie Smith, Deacon Dotson, William Powell, Earlene Garrett, Patsy Saunders, Geraldine Boyd, Deloris Davis, Mrs. Roundtree and family, especially Lynn and her Kaley St. family and neighbors. Also Dr. Method, Dr. Bufill, Michiana Cancer Care Center, Memorial Hospital Staff and visiting nurses and New Testament Missionary Baptist Church family.
Services will be held at 12:00 p.m. on Friday, November 11, 2016, at Alford's Mortuary, with viewing occurring from 11:00 a.m., to noon at Alford's Mortuary.
Arrangements entrusted to ALFORD'S MORTUARY.
Visit our website to sign family guestbook and or to send the family a condolence at: www.AlfordsMortuaryInc.com.
Funeral Home
Alford's Mortuary
1222 Napier St.
South Bend, IN 46601
574 282-2477 Funeral Home Details
Send Flowers
Published in South Bend Tribune on Nov. 10, 2016
- See more at: http://www.legacy.com/obituaries/southbendtribune/obituary.aspx?n=daisy-mae-turner&pid=182443265&fhid=8823&eid=sp_ommatch#sthash.SJ3W1P8n.dpuf