In Memory
Beatrice O Spears (Bibbs) - Class Of 1956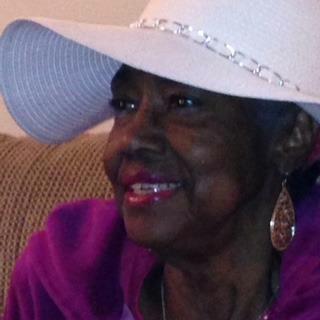 Washington 1956 Beatrice O (Spears) Bibbs
Sept. 27, 1938 - Aug. 6, 2016
SOUTH BEND - Beatrice O. Spears Bibbs, 77, of South Bend, Indiana, affectionately known as "Bea", peacefully departed this life after an extended illness. Bea was born in Cowpens, South Carolina, to Edith and Flemmons Spears. She married William G. Bibbs, and they remained together until his death.
Bea attended Washington High School. As a young teenager, she won the Miss South Bend Beauty Pageant. She was the first African American in the pageant's history to win this title. Beatrice accepted Christ at an early age and was baptized at Second Baptist Church, under Rev. Dave Davis, Sr. She was active in the church and served as the church secretary and sang in the choir. As an adult, she was a member of Greater Friendship Missionary Baptist Church, also under Rev. Dave Davis, Sr., where she also sang in the choir. Bea loved children and enjoyed her position as a teacher's aide with the Head Start Program, where she was able to touch many young lives. Bea loved cooking, listening to music, dancing and spending time with her grandchildren and great-grandchildren. She was affectionately called "Aunt Bea" by her nieces, nephews, cousins and all who loved her.
Beatrice is survived by daughters, Tyonna (Bibbs) Jones (Hubert) of Lyman, South Carolina, Glenda (Bibbs) Williams (Robert, Jr.) and Julette Bibbs, both of South Bend, Indiana; a sister, Shirley Townsend of St. Louis, Missouri; four grandchildren, Takesha Williams of Collegeville, Pennsylvania, Jeff Lee of Knightsdale, North Carolina, and Jaelaca Lee and Chelsea Williams, both of Indianapolis, Indiana; three great-grandchildren, Jaylen Williams, Jamir Brock and Christian Lee; stepson, Barry Bibbs; and stepdaughters, Audrey Bibbs and Paulette Harden. She is also survived by special cousins, Freddie Black, Julius Jefferies and Faye Jackson; special nephews, Demetrius and David Townsend; and a special niece, Cheryl Townsend, all of St. Louis, Missouri; as well as a dear friend, Lutisha "Peaches" Moss.
She was preceded in death by her mother and father, Edith (Douglas) and Flemmons Spears; husband, William G. Bibbs; son, Derrick Lamar Spears; brothers, Dennis and Gregory Douglas; grandmother and grandfather, Clemmie and Eugene "Bud" Jefferies, Sr.; stepson, Bernard Bibbs; and stepfather, Frank Douglas.
Funeral services for Ms. Beatrice Spears Bibbs will be 11:00 a.m. Saturday, August 13, 2016, at Palmer Funeral Home - West Chapel, 2702 Lincolnway West, South Bend, Indiana. Visitation will be one hour prior to services in the funeral home. Burial will follow at Mount Pleasant Cemetery on Edison Road in South Bend, Indiana, immediately after services.
Memorial contributions may be made to Center for Hospice Care, c/o Hospice Foundation, 501 Comfort Place, Mishawaka, IN 46545. The family would like to thank all the nurses, nurse's aides and doctors at St. Joseph Regional Medical Center who assisted Beatrice during her illness.
Online condolences may be left for Beatrice's family at www.palmerfuneralhomes.com. - See more at: http://www.legacy.com/obituaries/southbendtribune/obituary.aspx?n=beatrice-o-spears-bibbs&pid=181027205&eid=sp_ommatch#sthash.8AMhUKp2.dpuf