In Memory
Darnelle Warfield - Class Of 2014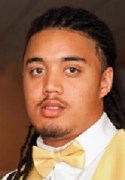 Washington 2013 Darnelle Warfield
Dec. 2, 1995 - April 25, 2017
SOUTH BEND - Darnelle Warfield, 21, of South Bend, Indiana, passed away Tuesday, April 25, 2017. He was born December 2, 1995, in South Bend, to Richard Warfield and Natalie Emmert-King. Darnelle was a graduate of Washington High School in South Bend and had attended Lake Michigan College. Darnelle loved spending time with his family and friends. He loved music and enjoyed traveling to new places. He will be greatly missed by all who knew him.
In addition to his parents, Richard (Shannon) Warfield of South Bend and Natalie (Willard) Emmert-King of Granger, Darnelle is survived by two sisters, Kaley King and Nahla Blue; six brothers, Rashad Warfield, Marshawn Warfield, Christopher Shorter, Ahmad King, Dominick King, and Don (Sarah) Robertson; and one niece, Damya Warfield. He also leaves his maternal grandparents, Paul and Sharon Emmert of Granger, Richard and Sheila Lu-O'bara of Dayton, Ohio, and Shirley Harris of Niles, Michigan; and his paternal grandmother, Ruth Reese, who is known as "Mama Ruth" - she was a second mother to Darnelle and held a special place in his heart. He is also survived by his girlfriend, Golden "Shay" Rucker, who was his high school sweetheart and love of his life; special uncle, Nick Emmert; special aunt, Shafonia Logan; special cousin, who was like a brother to him, Jalen Owens; along with several uncles, many cousins and close friends. He was preceded in death by his paternal grandfather, Richard Warfield; paternal great-grandmother, Joanna "Granny" Watkins; and maternal great-grandparents.
Funeral services for Darnelle will be held at 11:00 am Saturday, May 6, 2017, at Bethlehem Baptist Church, 24393 Fillmore Road, South Bend. Rev. Keith D. Witherspoon will officiate and Rev Derrick Buggs will deliver the eulogy. Graveside services and burial will follow at Highland Cemetery. Friends may visit with the family from 4:00-7:00 pm on Friday, May 5, at Palmer Funeral Home-Hickey Chapel, 17131 Cleveland Road, South Bend., and from 10:00-11:00 am prior to the services on Saturday at the church.
Expressions of sympathy in memory of Darnelle may be donated to Mamas Against Violence.
Online condolences may be left for Darnelle's family at www.palmerfuneralhomes.com.
Published in South Bend Tribune on May 3, 2017
- See more at: http://www.legacy.com/obituaries/southbendtribune/obituary.aspx?n=darnelle-warfield&pid=185276660&fhid=8852&eid=sp_ommatch#sthash.fkAwqMfs.dpuf