In Memory
Mark D Phillippi - Class Of 1983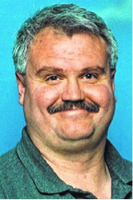 1983 Washington - Mark D. Phillippi
Nov. 21, 1964 - Mar. 25, 2016
INDIANAPOLIS - Mark D. Phillippi, age 51, of Indianapolis, passed away on Friday, March 25, 2016, at Methodist Hospital. He was born on November 21, 1964, in Niles, MI, as the son of Frederick and Sally (Renbarger) Phillippi. He graduated from Washington High School in South Bend, IN, in 1983, and received his associate degree from Ivy Tech Community College.
He most recently was a software engineer for IVM in Indianapolis, and was also a contractor for many Indiana companies. Mr. Phillippi was a member of Alpha Phi Omega and Lothlorien Nature Sanctuary. He was an avid crafter and enjoyed making jewelry, knitting and much more.
Mark is survived by his daughters, Margaux R. (Robert) Phillippi-Duff of Indianapolis and Brittainy Claire Phillippi of Grand Rapids, MI; brother, Rodney (Gail) Phillippi of Joliet, IL; sister, Veldoris (Robert) Nielson of South Bend, IN; guardians, James and Wilma Phillippi of South Bend, IN; and mother of his two daughters, Lisa Phillippi of Greenfield, IN. He was preceded in death by his parents, Frederick and Sally Phillippi.
A memorial service will be held on Saturday, April 2, 2016, at 4:00 p.m. with a memorial gathering taking place from 2:00 p.m. until 4:00 p.m. at South Side Church of God, 7351 US-31, South Bend, IN 46614.
Memorial contributions may be sent directly to Lothlorien Nature Sanctuary, 559 McFadden Ridge Rd., Bedford, IN 47421; or to The Nature Conservancy, Attn: Treasury (web/donate), 4245 N. Fairfax Drive, Suite 100, Arlington, VA 22203. Envelopes will be available at the mortuary and church. Friends may share a memory or send a condolence at www.erleweinmortuary.com or email condolences to sympathy@erleweinmortuary.com.
- See more at: http://www.legacy.com/obituaries/southbendtribune/obituary.aspx?n=mark-d-phillippi&pid=179453927&eid=sp_ommatch#sthash.KMZ1tlyo.dpuf