In Memory
Rosemary Muellner (McPherson) - Class Of 1963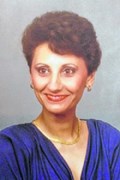 Washington Clay HS 1963 Rosemary (Muellner) McPherson
Nov. 11, 1945 - Aug. 16, 2017
GRANGER - Rosemary Muellner McPherson of Carrollton, TX passed away August 16, 2017 after a courageous battle with cancer. Rosemary is survived by her husband, Donald W. McPherson of Carrollton, TX, her mother, Antoinette Muellner of South Bend, Indiana, brother Joseph L. Muellner and sister Elizabeth J. Muellner, both of Granger Indiana, and brother Michael A. Muellner of Irving Texas. Her nieces are Lisa A. Lobel of Philadelphia, PA and Antoinette J. Wawrzyniak of Granger, IN; and her nephews are Macey and Jacob Muellner of Wylie, TX. Rosemary's father, Michael L. Muellner, is deceased.
Rosemary graduated from Washington Clay HS in 1963. Rosemary was the oldest living survivor in the U.S. of spinal bulbar polio, which she contracted at 9 years of age, and was the first recipient of a bone to bone fusion from polio. The indomitable spirit that enabled her to survive those ravages was an inspiration to everyone whose path she crossed.
She moved to Dallas / Fort Worth and during her remarkable life, she worked for numerous businesses in that area, most notably as the Cash Manager for Southmark Management, and most recently for Nutro. She was a nutrition expert and animal enthusiast who helped thousands of people discover foods that help their pets live healthier and longer lives.
A private ceremony to celebrate Rosemary's life will be held at her childhood home in Granger. In lieu of remembrances, please donate to the March of Dimes, St. Jude's Hospital or the SPCA.
Published in South Bend Tribune on Aug. 20, 2017
jmc 21 aug 2017